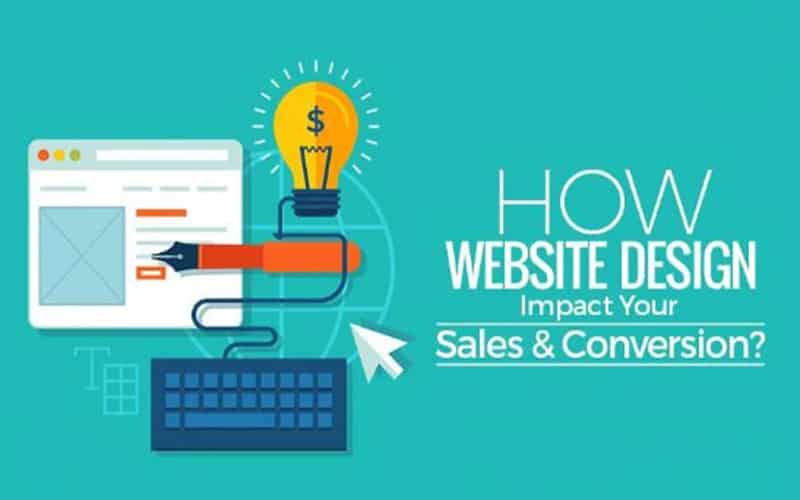 There is one thing that every successful business has in common: They have a phenomenal website. When it comes to website design, you ought to find the style that suits best your personal brand.
There is no straightforward answer to how to create your page. Each business has different needs, target audiences, and styles. You can go minimalist or vibrant, monochromatic or multicolor, and anything you can imagine.
That said, some rules still apply when building a website. You want potential customers to stick around for as long as possible and go through the purchase. How do you achieve that? Let's see.
How to Maximized Sales with Website Design
1) Declutter the pages
Whether your company is minimalist or not, clients don't want clutter on your website. It hinders the task of reading and finding the right product or service. The last thing you want is potential customers closing the tabs because it's too much to handle. Keeping things simple is the first step toward a successful online business.
It's also worth noting that people don't read all the text on a website – They skim the content and find valuable CTAs or information instead. How can you get conversions and sales if clients can't find the CTAs?
Keep sentences concise to avoid losing your reader's attention or overwhelming them with too many words.

Space out the content if you need to lay out a lot of information.
2) Be smartphone-friendly
Most searches are conducted via smartphones and voice search these days. As technology advances, your website needs to stay updated too. The mobile version of your website should be even more clutter-free and easy to navigate than the desktop version.
Consider minimizing page elements, scaling down icons and buttons, and providing enough margins to prevent readers from getting overwhelmed. Other improvements relate to website architecture and programming, but you can leave that part to experts and focus on what matters the most: Running the business.
3) Include social proof
Up to 80% of people trust online reviews. They feel as if they are talking to a friend who is encouraging (or discouraging) them to go through the purchase. Do you want to get more conversions? Then you ought to share positive and honest testimonials. These testimonials improve your SEO ranking as well – They are a must in any marketing and web design strategy!
The best way to get clients to leave a positive note on your website is to ask them to do so. It's best to wait enough time to ensure they don't return the service or product or complain about the process. Once they receive the package and everything is fine, so much so that they even repurchase the item, it's time to send them an email asking for kind words on your company's page.
4) Create strong CTAs
Calls to action are the anchor or regular texts that get customers to buy the service or product. Thus, they must be good – More than good, perfect. You'd be surprised by how conversions and stats change depending on used words. Other factors influence the client's decision, such as the font, color, or text position.
It can take you months to come up with the perfect combination of words to attract and retain potential customers, but you will get there. In the meantime, you can enjoy the services of professional copywriters or marketers. They understand target audiences and create and meet needs, so your business will be in good hands.
5) Test new ideas
The previous point discusses how different words and CTAs can drastically change your sales. This piece of advice relates to that statement. No matter how good you do (or think you do), it's always time to test a new idea.
Do you usually send laid-back and not-so-pushy emails? Be more aggressive next time you send the newsletter, even if it's just one bit, and observe how customers react. Simple changes like headers or refining a piece of copy can be game-changers. You don't need to go big and lose half of your client base.
6) Analyze the data
We live in a world of data, and every business should leverage it – Track every metric and analyse it. A/B testing (mentioned in section 5) helps you collect this information and compare the results.
Once you have enough data, here are some questions to ask yourself:
What words make the best impact on our customers? What words drive customers away?

Do vibrant colours get more conversions, or does our audience prefer quiet and calm styles?

What page on our website drives more conversions? What's so good about it?

Why do customers always leave this landing page in three to five seconds? Is the header not engaging enough?
These are just a few examples, but you can collect and analyze almost any type of data. It will help you understand better your target audience, and they will appreciate it when you create the perfect CTA or email campaign just for them.
7) Fix 404s and other errors
There is nothing a customer hates more than low-speeding pages or 404 errors. They mean the site doesn't count on proper management. Why has no one noticed that the landing page doesn't work?
In a world where speed is everything, customers appreciate it when you (or your IT team) take the time to improve the user experience. Errors are so frustrating that most potential customers won't look back – They're gone forever. It's easy to find another company that provides the same services.
Build your company website in a reliable host that provides support and management. Hosting your domain in the same place as everyone else can lead to fewer resources for each website, which isn't good for your business.
Final Words
The main takeaway is that website design requires special attention. It's your cover letter for potential customers, and you want it to be accessible, fast-loading, and visually appealing.
You'd be surprised by how many extra conversions you get when you optimize your website design and architecture. It can be the difference between making a living and making a fortune.
Follow – https://sggreek.com for More Updates