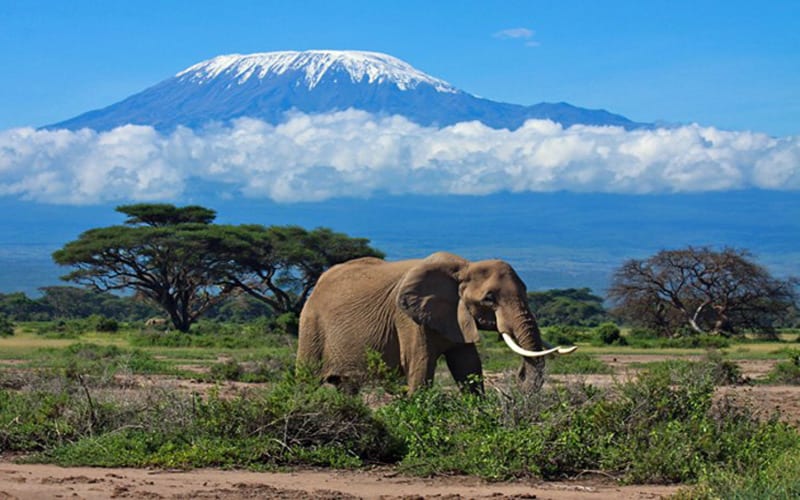 Are you ready to travel to this beautiful destination? When you have everything prepared for your trip, you must choose the best tourist spots to visit. These places will influence the lodging centers you pick and the route you want to take during your trip.
Discover the wonders that this country has for you.
Although this country has hundreds of tourist destinations to discover, this article will provide you with the most quoted by most travelers visiting the Tanzania. These are the following:
The Serengeti National Park
This is one of Africa's most famous safari destinations and one of the most popular tourist attractions in Tanzania, if not the most prominent on the continent. It is renowned for allowing visitors to observe the annual wildebeest and zebra migration. However, to fully enjoy this destination, it is advisable to visit the park in May, when the grass dries up, and the wildebeest and zebras begin to move, offering a spectacular wildlife show.
Ngorongoro Park
This place was created by a volcano erupting two to three million years ago and forming a crater. This natural event has allowed it to become a natural enclosure for a wide variety of wild animals which now inhabit it. It is also one of the few places in the country where you will have the opportunity to observe the Black Rhino.
Mount Kilimanjaro
This tourist destination is one of the most famous volcanoes in the world. Rising 5892 meters above sea level, Kilimanjaro is the highest peak in Africa and the highest free-standing mountain in the world. Mount Kilimanjaro is famous for its snow-capped peak that looms over the savanna plains, which is rare to observe in such a hot climate. As a result, the mountain has become a tourist attraction for mountaineers and hikers worldwide.
Zanzibar
This destination is an African island that, for centuries, has been an active commercial center with Indian and Arab influences. Zanzibar's main tourist attraction is Stone Town, with its whitewashed coral rag houses. You can also visit its beautiful white sandy beaches and relax with a traditional local drink.
Lake Manyara
This destination is perfect for birdwatchers. In the rainy season, the lake is home to almost 300 different species of migratory birds, including flamingos. On the other hand, during the dry season, it is the best time to see large mammals such as hippos, elephants, wildebeest, and giraffes. In addition, several safari tour operators offer tourists day and night wildlife viewing.
Tarangire National Park
This national park is also a birdwatcher's paradise, with over 550 different species of birds. Visitors can spend hours watching these beautiful creatures. It is also known for its many elephants, baobab trees, and tree-climbing lions.
Pemba Island
This destination is also known as Green Island. This destination is becoming increasingly popular among tourists; the more adventurous travelers are looking to visit this destination for its sporting activities. Furthermore, the island is especially popular with divers who come here to appreciate the virgin coral and abundant marine life.
Get your travel document to enjoy this beautiful country.
When a person travels, they must consider all the requirements for travel, such as airfare, accommodation, travel ticket, and most importantly, the mandatory travel documents to cross the border.
In the case of Tanzania, more than 150 countries must apply for the eVisa for Tanzania in order to enter the country for tourism. Therefore, this document is only valid for entry through Julius Nyerere International Airport (JNIA), Kilimanjaro International Airport (KIA), Abeid Amani Karume International Airport (AAKIA), Namanga land border, or Tunduma land border.
Don't worry! iVisa can help you with all these procedures whenever you need them. Our team of experts and our travel document validator will help you find out what you need to travel, how long it will take you to get it, and how to process it.
Follow – https://sggreek.com for More Updates