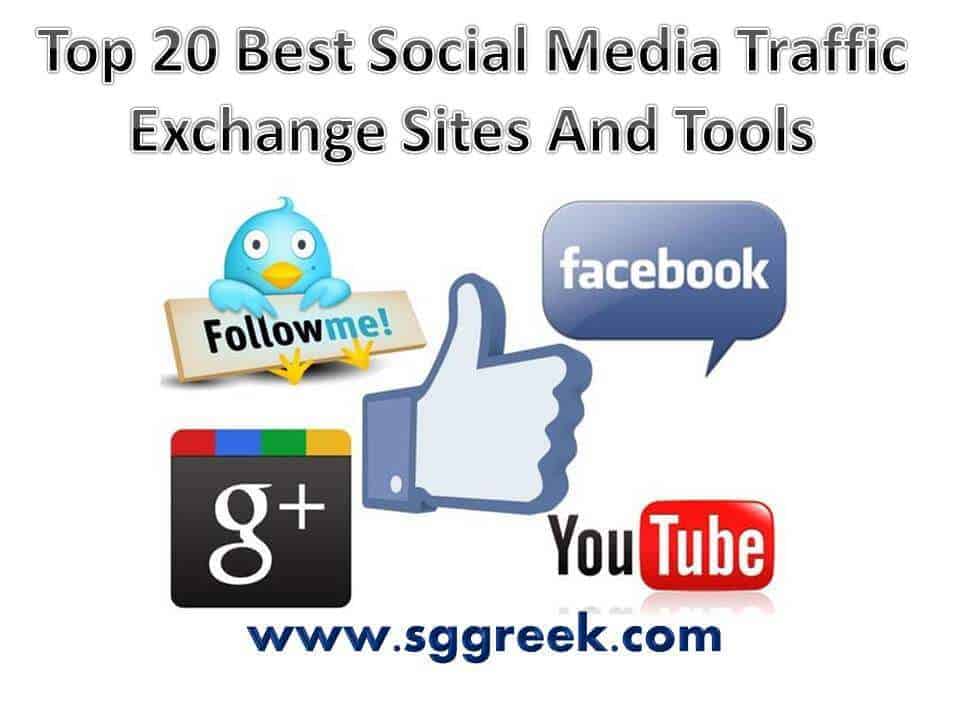 Social exchange site is a network where people share their facebook likes, View videos from the YouTube, Visit Websites etc. In return, they are provided some points which are then used for getting more visitors or money. As SEO strategies are getting more and important for getting traffic to sites, several SEO tools have emerged with special features which provide the blog/site owners to gain, maximum traffic for their site.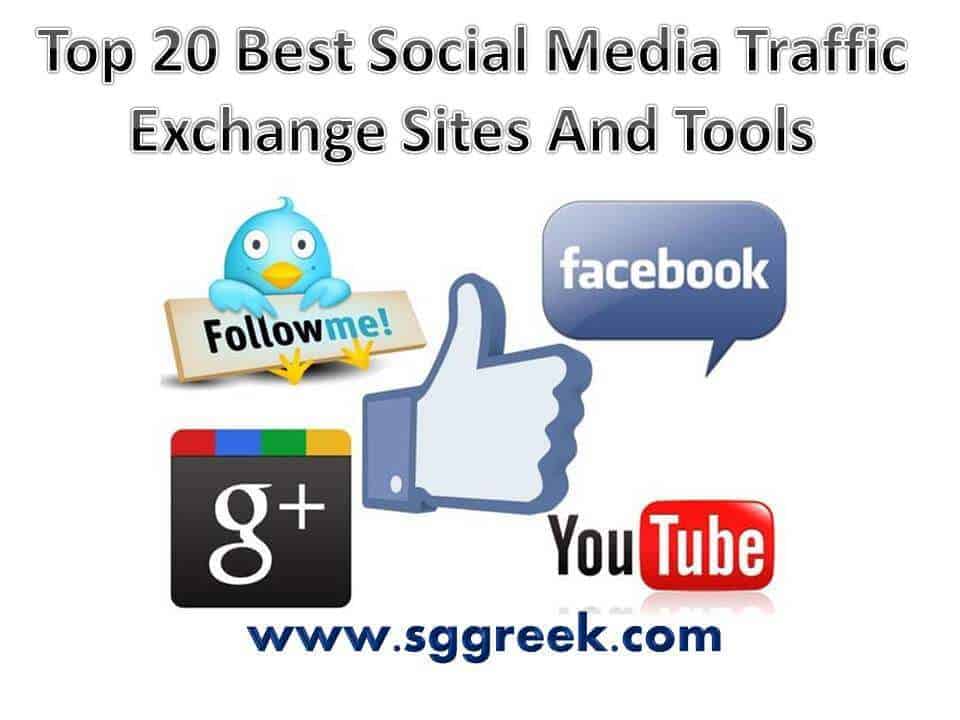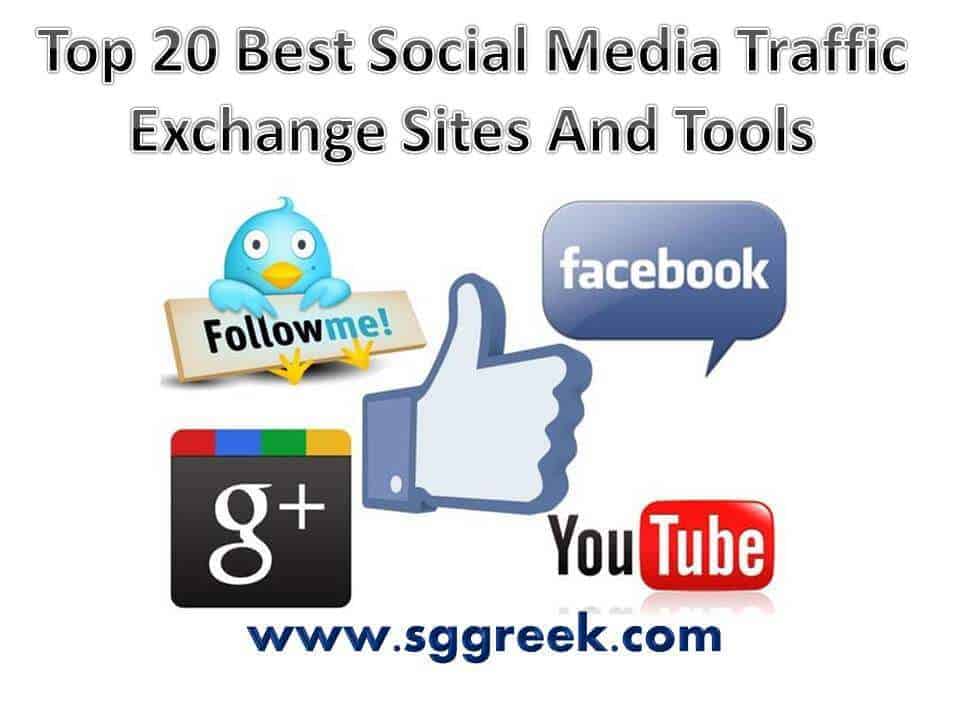 Useful Link:
Top 20 Best Social Media And Traffic Exchange Sites And Tools In 2018:
This list contains 20 such Traffic Exchange and Social Media Sites and tools, which are indispensable to get the traffic to one's site.
Addmefast is a social media traffic exchange platform which helps to increase the number of likes on Facebook, Google plus share and much more stuff in a similar manner.
They allow users to choose the sites they want to follow, like and subscribe. They follow rules from Facebook, Twitter, Google conditions etc. It is a totally free service to get the traffic exchange for your site.
It is a tool which provides heavy traffic exchange for sites. They provide visitors to the websites, e-mail marketing, social media integration and other such services.
www.10khits.com is a tool which helps you to earn points without distractions like pop-ups or frame breakers. The service is available round the clock. The users get the number of visitors according to the points they have earned and that too instantly.
5) Hit Leap:
https://hitleap.com is another traffic exchange platform which helps its costumers to gain traffic to their website. Here, websites of the members will be shown to the users (when he/she participates in the traffic exchange arena) and in an alternative manner, the user's website will be viewed by thousands of other customers which will help to increase the traffic within minutes.
6) Othits.net
This is the site where one can hide the offer and provides one point equals to one-second service. It contains the unlimited number of websites and timer which the has a timing of 10 to 600 seconds.
7) Autowebsurf
https://autowebsurf.com – A tool for increasing the presence and visitors for one's website. It provides referral credits which can go up to 0.2 credits and cash which can go up to 40%.
8) ViralTEcoop
http://viraltecoop.com – The main feature of this tool which is loved by the users that it frees you from visiting myriad TE for earning credits in a single day. Instead, one needs to visit 1-2 TE to get views from hundreds of sites for your own site.
9) 9Hits
http://9hits.com – This traffic exchange system consists of some special features which are not found by other traffic exchanging platforms real-time interact with Macros, custom surfing durations, multi-session support is some of them.
This is a network in which the provides service of promoting adds to their members. It is a marketing program which has the considerable presence and so has a beneficial result for marketing sites.
https://kilohits.com – It offers features like a cross-platform viewer, one can specify how many likes one would like to receive I total, how many likes one would like to get per IP address per day etc.
12) Followlike.net
https://www.followlike.net – It is a social media traffic booster and an SEO promotion tool that works by using link building Seo tools. This promotes videos, audios and anything that your website contains.
13) Link Collider
https://www.linkcollider.com – It is the only tool which make use of social media sites to improve the status of SEO for your site. It increases the presence if site by pairing site owners and sites to one another which increases exposure for all sites involved.
14) ViewCount
This is a tool which is used for increasing the views of videos. It helps in optimizing the specific keywords, and thus provides benefit for more presence and recommendation results, thereby increasing the number of views for your video.
15) Twiends
https://twiends.com – It is used for growing the number of followers on Twitter and also provide homepage. The discovered followers are added to your following list using some rules and policies by this platform.
16) Fanslave
This is a tool which provides professional marketing activities at low prices. Fanslave increases growth of social networks stretches distribution of your social media brand, product etc.
17) 247autohits
At www.247autohits.com, conversation to banner a, link text expressions, quality script and banner exchange is offered which increases the social media presence of your website substantially and thereby helps in getting more visitors and recognition.
18) Alex surfing
www.alexasurfing.com – Alex exchange is a simple traffic exchange provider which helps to get traffic to your website on social media platforms. The attractive thing about this service provider is that offers 100 hits to your website free of cost.
It has a large number of members and is ranked among the fastest delivering service platforms. This traffic getter platforms works using geotargeting and offers a facility to get your earn credits converted into cash easily.
This tool effectively promotes your YouTube channel by bringing lot of likes, subscriptions,views etc. This is the biggest network exchange for YouTube on the web. The credits are earned by watching, liking and subscribing and commenting on other videos present on YOUTube which one can eventually use for their own video promotion by spending the earned credits.