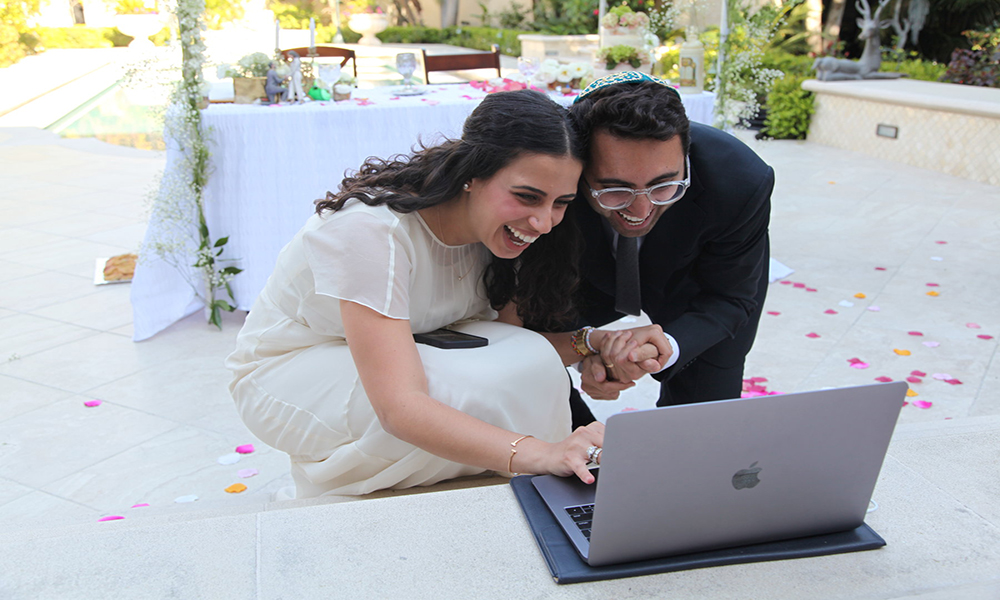 The wedding day is one of the most important days of everyone's life, and hence everyone wishes to make it memorable. On this particular day, everyone wishes to have the presence of their close relatives and friends that furthermore adds to the joy and memory of this special day. However, the ongoing season of a pandemic of Covid has already wrecked quite havoc leading to lockdown, shutdowns, suspension of operation of the international flight routes, etc. Because of the various restrictions associated with this pandemic season, many of our close friends and relatives, especially those living in other countries, cannot attend the wedding season. But with the technological arena at our aid, we now have the virtual world where weddings can be live-streamed easily. Zoom is one such online platform that enables one to live stream your wedding. Live stream your wedding via zoom platform is the cheapest and best way to include all those guests on your special day who cannot physically attend the function. Additionally, you can take the services of professionals who can effectively live stream your special day on zoom since they hold all the required professional tools and skills. 
Creating a group on social media of guests who will attend the online wedding 
To ensure that you do not leave out anyone from the guest list, it is always advisable to create a group on social media and include all the names in your guest list. You can choose any available social media platforms to make such a group. Moreover, having such a group will also give you a brief idea regarding the actual number of guests who will attend the virtual telecast of your special day. 
Choose the perfect live stream point of view

.`
While live stream your wedding via zoom, the angle from which it is captured matters the most. The point of view or the tip must be decided beforehand to avoid any confusion on the wedding day. Moreover, while deciding on the point of view or angle, the number of guests attending the wedding virtually must be considered. A consultation with a professional will provide you with a better idea regarding the perfect point of view that will align with your expectations. 
Test your live stream for audio and video 
Live streaming your wedding is a technical aspect that can lead to specific disruptions. Therefore it is always better to test your live stream for video and audio beforehand. A rehearsal before your wedding day will ensure that nothing goes wrong on a particular day, and any chance of occurrence of any error can be rectified beforehand. 
Create a schedule of events that you wish to broadcast through live streaming 
Do not just consider lifestreaming your wedding instead; also consider live streaming other marriage ceremonies such as raising the toast, cake cutting, the first dance, etc. 
Testing the internet connection 
Apart from other aspects, a stable internet connection is the primary factor of the live streaming of your wedding. To avoid any disruptions on the wedding day, it is better to check the internet connection. Keeping a check on the internet connection will enable you to develop a backup plan to fix the internet issue if any technical problem or error occurs due to an unstable internet connection. To test the internet connection, one can use various applications such as the Speedtest app and many more that are readily available for free of cost. 
Start live streaming your wedding ten minutes before the start of the ceremony. 
Going live on your wedding ceremony ten minutes before the start of the ceremony will allow the guests to log in and get connected to the live streaming before you start walking down the aisle. Moreover, it will also give the attendant to troubleshoot in case of any disruptions that might occur during the live streaming session. 
Live stream your wedding via zoom is a great way to save, backup, and record the ceremonies of this special day. To ensure that the live streaming of your wedding takes place smoothly, you can hire a professional.
Follow – https://sggreek.com for More Updates