As much as traveling is fun and exciting, having a stressful trip happens too. Instances like forgetting your phone charger can ruin a whole trip. It's therefore vital to know the right essentials to pack to avoid being in a stressful traveling situation.
No matter the type of trip, some things should not fail to be on your packing list. Forgetting even one of them increases the chances of spoiling the entire trip. Now buckle up and let's check what must be included in your traveling bag, for you to have a relaxed journey.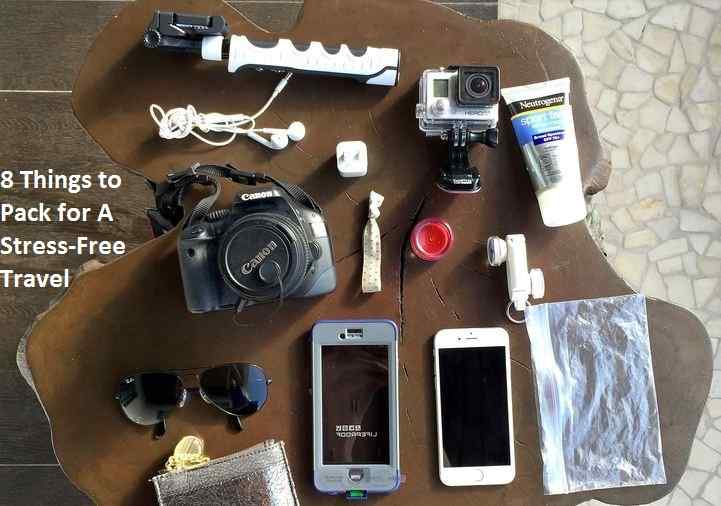 1.  Travel Documents
Traveling documents are a must-have unless you don't want to travel at all. Getting to the airport and realizing you don't have your travel documents can be stressful. You might end up missing your flight, and we all know the hassle that comes after, is unbearable.
Apart from your documents, having your itinerary is essential too. Forgetting this, especially if you're visiting a new place, can end up making the whole experience disastrous. Ensure you add your itinerary and a copy of your travel documents in your list; you most definitely need them.
2.  Carry-on Bag
The frustration that comes with having to get your toiletries from your suitcase is unexplainable. Most of the time, it's unavoidable given that toiletries are essential things to carry. To avoid such a hassle, you need to have a small carry-on bag that will be with you the entire travel.
A small carry-on bag is ideal for packing your essentials like sleep masks, which are very important when it comes to catching some sleep. You don't want to be that nuisance passenger who has to bother everyone else by continuously reaching for the overhead bin to get to their suitcase. So, get that carry-on bag, it's vital.
3.  Earplugs
You do not want to be that person who complains when a baby starts crying in a plane. Trust me, that'll make you look bad, and the whole experience itself is embarrassing. Babies communicate through emotions, and no one can control their communication. That's why you need to have earplugs, lest you want to be that jerk who stands up to a baby.
Getting some sleep can be a daunting task if your neighbors are a couple of friends who are having never-ending conversations. Earplugs help filter noise at a level enough for you to catch some sleep. You need that rest; you don't want to look exhausted upon arrival.
While picking the right type of earphones, emphasize on the ones with the best noise filtering feature. Also, choose a pair that's comfortable to use.
4.  Carry a Mode of Entertainment
Having your style of entertainment comes in handy. Sometimes the form of pleasure offered by the cabin crew can be annoying or not of your taste. Having a book can help kill the boredom or keep your mind occupied. It can be a book, or magazines, or even your phone long as it keeps the time flying, then it's necessary.
5.  Compression Stockings or Flight Socks
The weather and temperature changes while on a plane. The higher you go, the cooler it becomes, that's a confirmed scientific fact. It's therefore essential to carry extra clothes like compression socks to prevent deep vein thrombosis.
Deep vein thrombosis (DVT) is a condition caused by the formation of blood clots in your deep veins that end up blocking blood flow. These socks work by applying gentle pressure to your legs and ankles hence allowing blood flow.
Also, extra clothes come in handy in cases of lost luggage, or accidents like getting stains on your clothes. To avoid any of the above scenarios, make sure you carry extra clothes and either a pair of compression socks or flight socks in your carry-on bag.
6.  Toiletries
Cases of lost luggage are prevalent, and this happens to anybody. You don't want to be in such a situation and still can't freshen up because your toiletries were part of the lost luggage. That's why we insisted on having a carry-on bag where you can put all the necessary toiletries. Cases of lost belongings are stressful, but don't let them make you stink.
The essential toiletries that should be in your carry-on bag may include deodorant, a toothbrush, tampons, hand sanitizers, and shampoo.
7.  Neck Pillow
The need to have some rest during a trip is very vital. Sitting through long hours is exhausting; that's why you ought to rest during your travel. Planes lately have seats designed for comfortable support for you to sleep, but they are not a hundred percent efficient, depending on many variables. That's why you ought to carry a neck pillow.
Neck pillows help offer a firm yet comfortable support for your neck, so sleeping does not end up being a strenuous activity. The best neck pillows provide comfort and support your neck regardless of how you place your head while slouching. Carrying a neck pillow is very important, especially if you're traveling for long hours.
8.  Don't Forget your Charger and your Devices
Your phone is a significant item, and it's difficult for anyone to forget their phone. However, failing to remember your phone's charger is easy. Well, buying a new one upon arrival is an option too but what happens when your phone battery dies during the flight? Apart from calling, phones also help with navigation and can be used for entertainment too.
Avoid being that annoying passenger who constantly nags the rest by borrowing a phone charger.  Make sure you include a phone charger among your number one items in your packing list. Putting your charger where it's accessible is a prime hack because chances of needing it are higher than you'd assume.
Whether it's a long trip or short, the above items are a must-have in your packing list if you want to enjoy your travel. Other things that are a crucial addition to the list include; sunglasses, a bottle of water, your credit cards, debit cards, and your emergency contact information.