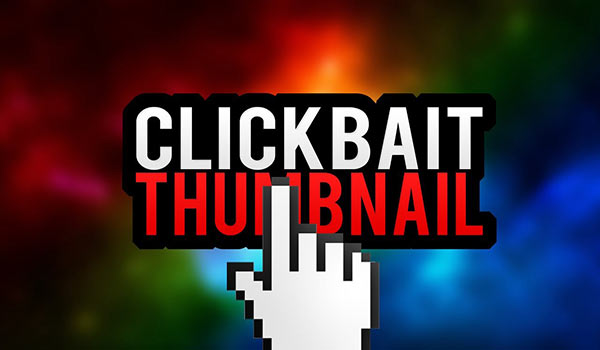 A Clickbaits thumbnail has become a household name among many YouTubers. Though the importance of Clickbait thumbnails remains debatable, it is an art that is widely used in the production of YouTube videos. 
While creating quality videos has been costly for many years, the advent of clickbait thumbnail video technology has greatly made it easier to create videos.
In this article, we give you an insight into how you can create a killer clickbait thumbnail for YouTube videos.
YouTube Thumbnail
Typically, YouTube automatically generates a thumbnail for every video posted on the platform. While that may be a perfect option for your video, it is recommended that you skip the option to create your thumbnail.
People love emotions hence using thumbnails in videos can greatly attract the attention of visitors thereby resulting in more clicks for the video.
Here are some tips on how to make a clickbait thumbnail
Promising Clickbait
Promising clickbait is usually created to improve the appeal of the video to the viewers. Creating this type of thumbnail entails blending emojis, provocative text and promises. As you aim to appeal to the target audience through thumbnails, ensure the information being shared through the videos is of value. Otherwise, the trick may flop if you use it in your next video.
For example, promising thumbnails may entail the following;
Here is how to make $5000
How I increase Youtube subscribers to 100000 in 24hrs
All these aim to lure the attention of the viewer to get glued to the video. Although this may be a great trick in getting followers, you need to provide realistic information that offers value to viewers.
Informational clickbait
This type of clickbait generally aims to capture the attention of the viewer creatively. An example is, I will give you value for your money if you hire me to repair your computer etc.
That said, here is how you can create an exceptional clickbait YouTube thumbnail.
To create a perfect clickbait thumbnail, it is recommended that you should have a rough idea about graphic design. In Fact if you have no idea about how to use various graphic design platforms, you should hire a professional graphic designer. This e gives your YouTube channel a professional touch. That way, you stand a chance to stand out among your immediate competitors.
One of the simplest and most popular tools you can use to create a professional clickbait thumbnail is canva. Though the platform has a free version, you can choose the premium version to access better and high-quality designs for your YouTube videos.
Here is an example of how to create a thumbnail via the canva platform
Go to canva.com register and click on the top right-hand side to create a design
You will see several custom thumbnail designs available on the platform. Some of the YouTube Thumbnail options are of various sizes. The choice of design will depend on the theme of your YouTube channel. Preferably, you can choose 1920by 1080 pixels for your design.
After clicking on the favorite option, you can easily navigate to the designer page. Here, you can easily select and customize your design depending on your niche.
Some of the actions you can take include adding your images, access to over 1000 graphic elements, backgrounds, texts, and any other operations you may want to do with your template. While a graphic design may be regarded as challenging, canva is one of the easiest available platforms that you can use to create any clickbait thumbnail of your choice.
Typically, it can take you less than 30 minutes to understand how to use canva for your designs. Alternatively, you can use design wizard for your designs if you aren't satisfied with the quality of designs done through canva..
Quality of images
A key rule that you need to consider when creating clickbait thumbnails is the quality of images you choose for your YouTube channel. Poor images may not create quality clickbait thumbnails.
in designing your thumbnails, you have to put into consideration YouTube guidelines that require designs used to have a minimum width of 640 pixels and measure 1280 by 720 pixels. The size fits perfectly since it's mostly used in previews and YouTube players.
Despite the recommended size, creating bigger thumbnails can also look unique for those who understand how to blend the designs with their messaging. 
For example, small thumbnails may not look appealing especially when videos are embedded on a website or video links are shared across various social media platforms.
Create the style of Your Thumbnail
When creating thumbnails for your YouTube channel, you shouldn't forget to blend your preferred style.
If you are wondering how to go about it, here is a tip.
Topic

Text font

Image style.
Though there are several other styles available on YouTube, these are the standard formats.
In that case, you can try out various designs on canva and decide on the one that suits your niche.
Choose the right image
Regardless of whether you use your own picture or any other photograph picked from the internet, you have to ensure the image sinks well with the concept of your video. Choosing the wrong image may ruin the aim you intend to achieve with your video. As such, take your time to get a high resolution and relevant image for all your designs.
Another point to note is that you should avoid picking images from Google search console. Instead, you can pick photos from pixels.com .In fact, you can find several pictures on the platform that suit a variety of video themes. On the other hand, ensure the image resolution is clear for easier visibility.
Add text
Text is the most critical part of creating a thumbnail. The bottom line is that you should avoid misleading information. If you share misleading information for a while, in the end viewers may bolt out since they will eventually realize that you can not deliver what you promise. In that regard, be as factual as possible and only promise what you can offer.
Use  Emojis
Emojis play a critical role in how people interact with your content. As such, you can add Emoji on your thumbnail to create emotion. This will easily influence people to click on your video. On the flip side, avoid using too many emojis since it may make your video look unprofessional.
Conclusion
Now that you understand how to make a thumbnail and the role it plays in inducing action, its high time you improve your video content by introducing thumbnail concepts shared in this article.
Follow – https://sggreek.com for More Updates