Like any other process, designing an e-commerce website is a tricky one. For the experienced ones, it might be a no brainer. However, tireless efforts are needed by the first-timers. These websites provide a holistic, one-stop-shop experience to a vast clientele. From grocery items to buying heavy equipment, almost everything can now be shopped online.
To ensure an e-commerce website runs smoothly, some safety measures should be taken into account. Many beginners learn it the hard way, but one can learn from other people's mistakes as well.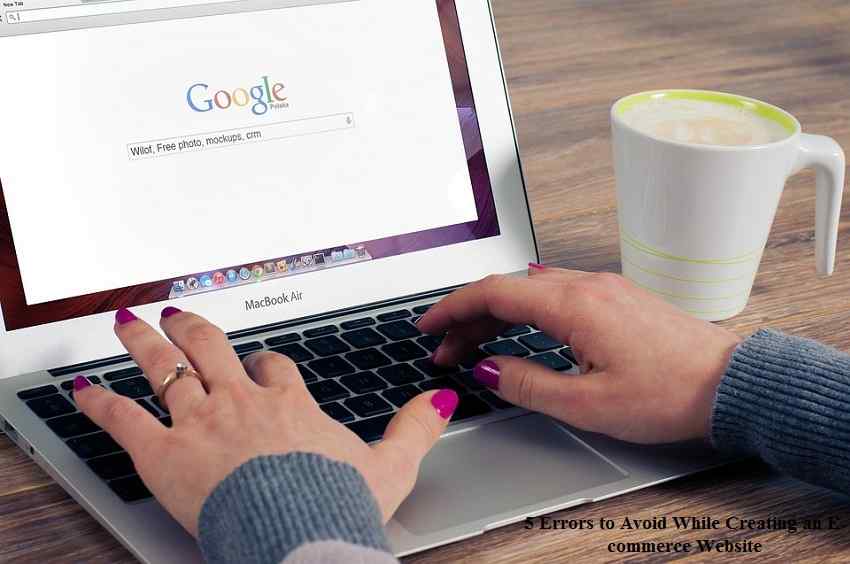 Here is the list of 5 most common errors one needs to avoid while creating an e-commerce website:
Finalizing Upon an Inappropriate Platform:
This is the 'make or break' decision for the business. Without an adequate platform, the company will not flourish. It is needed to showcase the products and make them more appealing to the customers.
After deciding the business plan, the main focus should be given to choosing the right e-commerce platform. Some vital factors to keep in mind will be:
The products being offered.
The target market.
How much is the budget?
The website design.
How to increase engagement?
With proper planning and effective execution, any business can become the market leader. Some of the best e-commerce website building platforms are BigCommerce, 3dcart, and Shopify.
Not Having a Competitive SEO Strategy:
The e-commerce content should not be underestimated. Hence, a competitive SEO strategy is often looked upon to attract more customers. Be it the Homepage or How to Order description; the content should be search engine optimized to engage more traffic.
Similarly, executing the right SEO strategy will reap remarkable results for the business. Customers prefer websites that are found on the top of Google search instead of the ones that get lost. The company will be ranked above other websites, and the content will be viewed widely through SEO.
Not just the content, but other elements are equally crucial while doing SEO. For instance, knowing what to post and the right time to publish in order to gain the highest views. This is why beginners need to have an accurate idea about SEO before proceeding ahead. They need to learn in-depth about how to implement it efficiently, and the business will soon prosper.
Taking Order Fulfillment Services From The Wrong Service Providers:
One of the most significant errors e-commerce businesses usually make is taking order fulfillment services from unreliable carriers. Such carriers either mishandle the products or deliver the products very late. An e-commerce business will only prosper if the delivery and after-sales services prove trustworthy. This is why e-commerce fulfillment should be given first priority.
Customers will only seal the deal when they are sure about receiving the same product they were promised. From multiple shipping options to overnight deliveries, order fulfillment services should be taken from a reliable platform. Platforms saving up on the business's warehouse costs and handling goods professionally are highly preferred. This way, a business wouldn't worry about shipping the orders to its customers.
Not Having a Mobile-Friendly E-Commerce Website:
Nowadays, the majority of people access e-commerce websites from their smartphones. Rahul Razdan, the CEO of Ocoos.com mentioned the importance of mobile-friendly websites in one of his interviews. "I often see that businesses have not set up an e-commerce solution that is mobile optimized. It's a huge mistake because web traffic is rapidly moving to the mobile platform. In fact, search engines such as Google penalize websites in search ranking if they are not mobile optimized."
If the website performs poorly on mobile, then it isn't something customers will be attracted to. They will turn towards websites offering a better mobile experience. So do not forget to make the website mobile-friendly with a high-quality user interface. 
Use of Images with Inferior Quality:
When customers start buying products online, they give up on the opportunity to feel the products with their hands and inspect them. Likewise, when a customer puts trust in an e-commerce website, they shouldn't be led astray. Poor quality images will not only deceive them, but the business will lose potential customers as well. Images and video tutorials with enhanced quality make the website more attractive and presentable.
Also, multiple options should be given, such as zoom in and out, size range, size charts, product reviews, etc. In this way, customers will be entitled to ordering products online instead of paying visits to the store. After all, it is a hassle-free way of buying products and services.
All in all, e-commerce websites offer a comprehensive approach to buying goods. New e-commerce businesses should learn from the above-mentioned mistakes. This is the only way to attain success by the end of the day.