Quartz watches revolutionized the watch industry the same way smartwatches are taking the reins of the business today. There was a time when quartz watches have the best innovations, rocking the mechanical watchmaking portion of the industry with a more accurate movement without ever needing protection from magnetism.
And quartz watches were cheaper than these mechanical watches – by a long mile.  But that time where quartz is the star of the show has long passed, but its longevity is proving to be better than most movements in the industry. Today, quartz watch sales make up at least half the bulk of overall watch sales worldwide.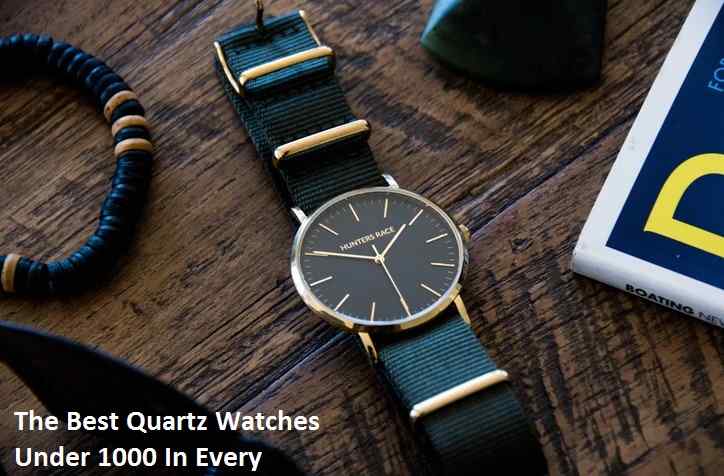 So when you're looking for the best quartz watches at any price point, you've come to the right article. From cheap everyday drivers to mid-range quartz timepieces down to luxury quartz under 1000, we've collated the best of the best in the business. Ready your wallets and prepare to salivate on these excellent picks that you can get for more than half the price of luxury mechanical watches.
Under $200
Two hundred dollars is a lot of money. It's equivalent to at most one week of groceries, but the watches that fall into this category are cheap by today's standards. Cheap doesn't mean they're not quality, though. $200 is a great starting point for a quartz watch budget. You can get the best of both worlds here: design and quality.
The Timex Waterbury United is a unique timepiece that needs to be looked at twice to be appreciated. Timex has always been a great watch brand for quartz movement, and the Waterbury United in classic brown, stylistically worn leather band is a testament to that. It's consistently been voted as one of the best watches under 1000.
Another watch that you can check out under this category is the Citizen Eco-Drive watch. With a tachymeter as its crown, this racing-inspired quartz watch is a sport watch through and through. In black dial with a matching perforated leather band, it's the perfect everyday watch that blends in with the background.
 Under $600
At this price point, you should have a watch that can last you a lifetime. With the intermittent battery replacement every three years or so, of course. If you have this budget, go for Swiss quartz as they're generally better designed than other watches in this category. Although, Japanese quartz isn't that all lagging behind, after all, they're the ones who revolutionized the movement.
The Tissot PR100 COSC is a great pick, just $50 shy of the range. You get a handsome watch in all black – clean black dial with a silver band and a stainless steel case. You also get a date feature just on top of the 6th hour, and a certified chronometer. All in all, this watch is a steal. If you're looking for something more fun, the Marathon Tsar Quartz Medium may be more up your alley.
Under $1000
Every single watch connoisseur will tell you that if you have this amount of money to spend, go for the mechanical ones. What they fail to add is that you'd need a couple thousands more to actually buy one. So get a brand new quartz watch instead, with all the bells and whistles of those mechanical watches.
Shinola's The Canfield Sport Chronograph arguably may be the best option in this category. It's an American heritage brand that puts the make of the watch first before aesthetics. But don't get us wrong, the Canfield Sport Chronograph is one good-looking watch. Other options are Longines Conquest VHP, Hamilton Ventura, and Tag Heuer Formula One.
Takeaway
Quartz watches are consistently rated as the best watches for everyday use, and for a good reason. These watches are versatile, do not need too much technical knowledge to be operated, and are priced just right that everyone can access them.
Getting yourself a quartz watch, even if you're the watch aficionado, won't make your colleagues think less of you. Instead, you'd be branded as a true blue watch fan. And there's something to be proud of in that.