Mattresses help you sleep soundly provided it has the best materials and you choose the right one for your rest and comfort. A good mattress should offer support to your back, neck, and joints, provide the right alignment, protect your body against pressure points, and prevent pain. Then, if you sleep on a squishy mattress that sags, it will lead to back, neck, and hip pain. You will also experience killer headaches and stress when you cannot sleep peacefully at night.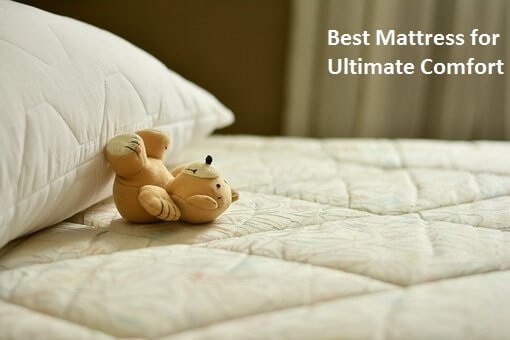 According to an article published on https://www.huffingtonpost.ca, sleeping on a 54-inch wide mattress is good for your sleep and overall health. Then, if you are a couple, you must opt for a 60-inches mattress to prevent recurring and unintentional body contact that may disrupt your sleep at night. The best solution is adding 16 inches to the stature of the tallest sleeper. Read on to learn about how to choose the best mattress for ultimate comfort.
Know what you need
You must know what your needs are before you shop for a mattress. Make a list of your requirements. What you like about existing mattress, what you hate most about it, will a firm surface provide ultimate comfort, what the best features I want in a new mattress, what are the things that I do not want in a mattress, how long will I use my new mattress, and what accessories I need in addition to my mattress? You must ask these questions before shopping for new bedding materials.
The answers to these questions will help you pick out the right mattress for you and your partner. Even if some of the questions seem obvious, there is no harm in researching and brainstorming. You should sleep soundly at night instead of staying awake. If you feel drowsy during the day, remember that sleeping too much is bad for your brain at the wrong time.
Weigh the benefits and pitfalls
The most difficult part is choosing the right mattress type for your sleeping needs. There is no single mattress to prove beneficial for all. That is because every person is different and so is his or her sleeping habits and patterns. Then, you must weigh the pros and cons before shopping for a mattress.
Innerspring beds are popular with affordable price and initial comfort. However, these mattresses will sag and cause back pain over the years. Therefore, you should avoid these bedding items at all cost. We recommend that you buy memory foam mattresses for better sleep and improved health down the years. Take some time out of your busy schedule, choose the right mattress that suits your needs, and comfort levels.
Focus on the budget
You should not worry about the price if you want a quality mattress for better sleep, posture, and health. Though there is no magic price tag for any mattress, quality ones come at a price of $800 or $1500. Try to buy a bedding material that is neither too expensive nor too pocket-friendly. That is because very expensive mattresses do not ensure comfort all the time.
Conclusion
Now that you know how to choose the best mattress for your comfort, make an informed decision.