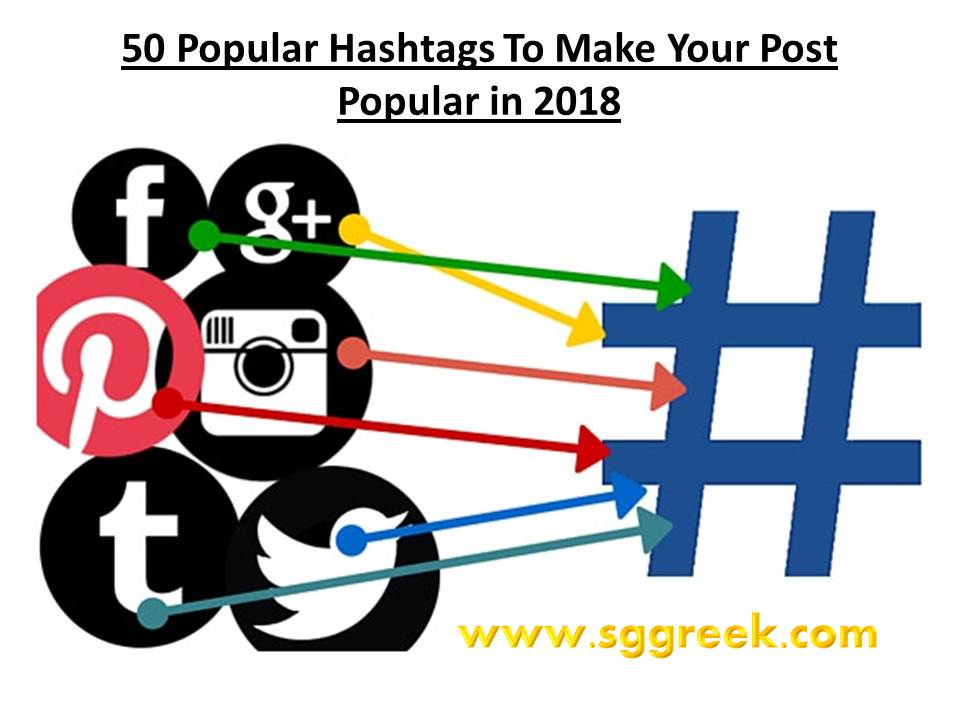 50 Popular Hashtags To Make Your Post Popular in 2018:
Hashtags are amazing tools to spread your message to a greater extent. It makes your messages and posts visible to not only those whom you are following but also to those who do not. Even after the high popularity quotient that is now associated with Popular Hashtags, people do not know how to use them in a correct manner. They simply add some words before a hash sign and hope that somewhere they will be connected. So, one should do a good research before putting a hashtag in one's posts. One should see whether the hashtag one is using is actually being followed by people or not. 
Top 50 hashtags are listed below with the stuff they are associated with. Read below!
1.    #love
For love quotes, pictures etc.
2.    #instagood
Popular posts on Instagram.
3.    #photooftheday
4.   #beautiful
All beautiful things including images of humans, scenery etc.
For fashion related stuff like dresses, designer etc,
6.    #tbt
Throwback Thursday, which has motivational quotes or positive experiences
7.    #happy
All thongs related to happiness like good day wishes, smiles etc.
8.   #cute
9.    #followme
This is a hashtag for personal branding on Twitter and another platform of social media.
10.    #like4like
This is used for getting likes on Instagram and other social media platforms.
11.    #follow
This is used to increase followers on Instagram.
12.    #me
13.    #picoftheday
It is used to bring attention to pictures.
14.    #selfie
This is a hashtag used when selfie is uploaded.
15.    #instadaily
For daily posts on Instagram.
16.    #friends
For friendship quotes, pictures etc.
17.    #summer
Happy things celebrating happy summer and clothes are mostly followed by using this hashtag.
18.    #girl
All girly or female-related stuff are paid attention b this hashtag.
19.    #art
For art and art related creativity.
20.    #fun
22.   #repost
It is used when someone posts some already posted stuff.
23.    #smile
For smiling and happy purpose stuff.
24.    #nature
Celebrating nature and natural things.
25.    #instalike
This is used to share stuff related to food like recipes.
27.    #style
The style is used for fashionable stuff.
28.    #tagsforlikes
When tagging is done solely for increasing likes, then this hashtag is used.
29.   #family
For family and clan posts.
Tigers are used for things related to tigers. It could also be used for fashion brand if they are using tiger print fashion etc.
31.    #fitness
For fitness and exercise things.
32.    #nofilter
When natural pictures are uploaded without anty edits.
33.   #follow4follow
For increasing followers on Instagram.
34.    #instamood
35.    #amazing
36.    #life
Motivation, happy life and other emotions related to life.
37.    #travel
For traveling places and experiences and other stuff related to travel.
38.    #beauty
Mostly used for beautiful faces.
39.    #vscocam
It is for filter features.
40.    #sun
All stuff related to the sun like sunset pictures, sunny day etc.
41.    #bestoftheday
Best moments, pictures etc of the day.
42.    #music
For all kinds of musical stuff.
43.    #followforfollow
For getting followers by following others.
44.   #beach
All stuff related to a beach like beach dresses, sea etc.
45.    #instagram
46.   #photo
47.    #sky
This is used for stuff related to sky ad heights.
48.    #vsco
It is for popular filters which can be put on images to change their appearance.
49.    #dog
50.    #sunset
Usually, sunset is used for good pictures clicked during sunset.