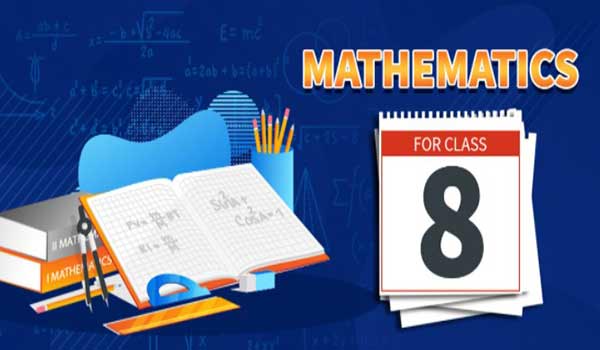 Mathematics as a subject may not be every student's cup of tea as it requires logical thinking and reasoning. Grade 8 mathematics specifically may be a bit of a challenge for many as there are a lot of new concepts and lessons that are being introduced. If practiced thoroughly we can say this is the most interesting subject. However, here are some pointers that could help you in scoring a 100% in math.
*DURING REGULAR SCHOOL HOURS
This is probably the most overlooked and underestimated period by most students. This period is when you get sufficient time to understand and practice the lessons being taught by the teacher. Trial and error is the most effective way to learn the subject. So don't get disheartened if you make mistakes, rather learn from them.
Make sure you are at par with the lessons being taught by the teacher and you are up to date with the assignments and homework that is being given. 

Take time to understand the concept behind the lessons being taught.

Solve questions from different textbooks within your curriculum.

Be open to discussions and feel free to ask questions and clarify your doubts with your teacher.

Group studying with friends can also be an effective way to sharpen your skill set and make learning a fun experience.
*WHEN YOU'RE AT HOME
Revise the topic which is taught in the class.
Work out on topic related problems for a clear concept.
You can get the clarity only when you start solving. 
Make sure to clear the doubts which might arise during the practice. 
*SOME STUDY TIPS TO MASTER THE SUBJECT
Think positively that Maths is easy for you. This will make it easy and you will start loving the subject. The moment you get the kind of scare in your mind then it becomes very difficult to have a flow in the subject. Like other subjects, this also can be mastered and you can be an expert too. Hard work, dedication and mainly focus are very important to have a grip on this particular subject.
Practice makes it perfect. Any skill you take unless you practice vigorously it won't be possible to learn. When you solve more and more problems your logical thinking also develops. This is very important. 
If in class the teacher has told you and given the homework to do a few sums, do that and also complete the remaining sums on your own in your notebook. This way your learning becomes better.
Make a study plan day wise and make sure to practice math every day. This is not a subject that can be learnt instantly or memorized. It cannot be partially right or wrong, it is right or wrong. Either you can score well or nothing. So give ample time to learn and practice. It is not rocket science but one must have the will to learn and think.
KEY FEATURES FOR MATHS PREPARATION
Practice, Dedication, Focus, Reasoning, Logical Thinking and of course a strong will within you are the main features to master the subject. 
*DURING EXAM PREPARATION
Once the examination schedule is released, time management and prioritization are of prime importance.
Make sure you have completed most topics by this time.

Do refer to ncert maths book solution for class 8

 for your doubts and queries.

Start by studying the chapters that you are least thorough with and gradually move towards the chapters that you're extremely confident in.

Spend time working on lessons that you haven't understood thoroughly. 

Solve practice papers. 

Avoid skipping chapters.

Keep a separate notebook to jot down all the theorems and formulae.

When you feel your confidence is dipping and you may be getting into a slump, try solving problems from lessons that you are confident in. By doing this, you'd be working towards sharpening your skills even on days that you aren't at your best.
As you get closer to the examination date you may start feeling stressed. This is normal.
Taking a break for a couple of hours from your study schedule would be helpful.
Have proper sleep and healthy food. Try to avoid junk foods.
A focussed few hours of study matters a lot rather than long hours and spoiling the sleep which hampers your next day's schedule.
*DURING THE EXAMINATION
Once you receive the question paper, go through each question thoroughly and mark out the ones that you'd be choosing to omit.

Paper presentation and time management are very important.

Make sure your answer script is legible and all your steps while solving a problem are clearly defined as steps carry marks as well.

Highlight the key steps and underline the final answers to each question.

Try and finish the paper at least 20 minutes before the time limit. This would give you sufficient time to re-check your answers and correct any errors that you may have overlooked.
Unlike other subjects, Mathematics has a very straightforward approach which makes it an easy subject to score a 100% in. Practice, patience and perseverance are the 3 P's that will help you achieve a centum in this subject.
AFTER THE EXAMINATION
When you come out of the examination room just relax and no need to check the paper or discuss it with friends. What happens is if you make some errors or any silly mistake that the same thing will be revolving in your mind. So better not to think about it and if you have answered in the right way the core also will be right.
Come home relax as you would have so hard and stressed yourself. If you have days left for another exam then you can just relax and start fresh the next day. Just forget about the exam or the books for some time. Motivate yourself, listen to any of your favorite music or do whatever you like to.
A proper and earlier preparation always gives you a stress-free atmosphere which is very important.
Follow – https://sggreek.com for More Updates