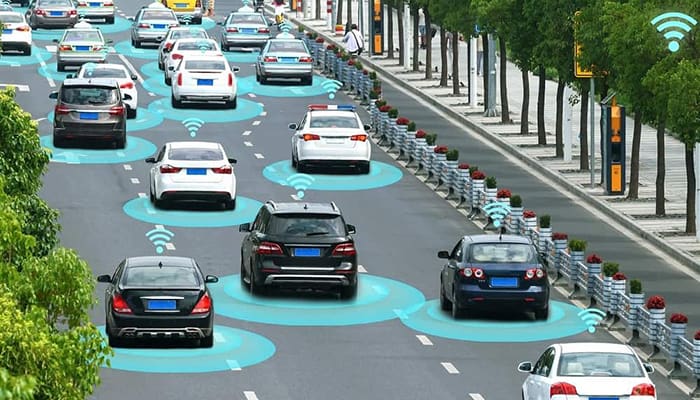 A smart traffic management system makes it possible to address urban transportation problems. These include slowdowns that add to air pollution, delay deliveries, cost businesses money and time, and impede the movement of emergency vehicles.
Intelligent transport systems rely on sensor networks that collect data from vehicles and road infrastructure. This information is sent to a central database and analyzed by AI-driven algorithms.
Real-time monitoring
An intelligent traffic system is a set of hardware and software that monitors road conditions. It collects information from different sources and sends it to a cloud-based traffic center in real-time. The data can then be used to optimize traffic flow and improve safety. It also helps improve the sustainability of transportation by reducing emissions and congestion.
In addition to the sensors and cameras that monitor road conditions, smart traffic systems can collect data from other sources. These include telematics data from connected vehicles, which are used to transmit speed and location data. These systems can also gather data from the Internet of Things (IoT), a network of sensors that connect to the Internet and share information. These systems can be used to predict upcoming traffic problems and help authorities make better decisions about road infrastructure upgrades.
Smart traffic management systems are automated systems that use the latest IoT and cellular technology advances to optimize traffic flow and enhance safety. They can detect congestion, enabling technicians to make dynamic adjustments to systems like traffic lights, freeway on-ramp meters, and bus rapid transit lanes. They can even control highway message boards and adjust speed limits based on current traffic conditions.
Another important feature of smart traffic solutions is their ability to identify specific types of road users. This makes it easier for traffic managers to identify problems and develop targeted solutions. For example, Vivacity Labs helped Manchester City design an AI-controlled smart junction system that automatically prioritizes public transport for people who walk or bike. This system has already reduced congestion and cut the number of single-occupancy cars at intersections.
The smart traffic systems market is expected to grow rapidly in the coming years. This is due to the rising demand for safer, more sustainable mobility solutions. These solutions can reduce the commute duration and prevent downtime for vehicles and equipment. They can also increase efficiency and help businesses save money on fuel costs. In addition, they can also reduce environmental pollution and congestion. The increasing popularity of these technologies is driving the growth of the intelligent traffic management systems market.
Data analysis
The key component of intelligent traffic systems is their ability to collect large volumes of data. This data enables city officials to make informed decisions and create innovative solutions that improve transportation infrastructure. These systems use a variety of sensor technologies, including radar, under-road loop detectors, cameras, and devices based on Bluetooth or mobile phones. Some systems can provide real-time visibility into traffic speeds and patterns throughout the city. These technologies can help reduce congestion, optimize signal timing, and increase overall system reliability.
The intelligent traffic management market is growing worldwide as cities and businesses strive to improve their daily operations. ITS technologies enable them to achieve that goal, resulting in more efficient transportation and better service for citizens. The benefits of ITS include reduced commute times, more reliable public transportation, and a safer, less polluted environment.
One example of a smart transportation solution is an integrated traffic management system that uses AI and IoT to automate the work of human operators, increasing efficiency and reducing accidents. This type of system is particularly helpful in urban areas, where the number of passengers and drivers is high. It can also be used to monitor lane closures, traffic signals, and other critical roadway components.
ITS systems can also be installed in vehicles and road infrastructure, including bridges, tunnels, and intersections. These systems can be deployed quickly and painlessly to create significant efficiencies, saving time and money while improving road safety. They can even be upgraded as needed to accommodate future technological evolutions, such as Connected Vehicles and 5G.
Smart traffic management solutions can integrate with many different types of transportation. They can provide residents with detailed transportation information, shorten commute durations, and prevent downtime due to weather or other events. Moreover, they can also analyze large amounts of data to predict trends and forecast traffic conditions.
Intelligent transport systems also improve traffic flow by analyzing a wide range of data, including vehicle speed and location, traffic volume, and the presence of pedestrians and emergency vehicles. These systems can then adjust traffic signals based on these factors and respond to changes in traffic conditions. For instance, traffic signals can change the speed limit to slow down a busy highway when there is a collision nearby. They can also react to queues by adjusting the amount of time drivers are given to cross an intersection.
Decision-making
The decision-making process involves analyzing a problem and yielding a solution deemed to be optimal or satisfactory. It is a continuous process that can be rational or irrational and can use either explicit or tacit knowledge and beliefs. It is a learning process and adapting to the environment and changing needs, preferences, and expectations. Decision-making can also be an emotional activity that uses a range of emotions, such as anxiety, fear, and anger. Regardless of the type of decision-making, it is important to be aware of its impact on the individual and the organization.
Intelligent traffic systems enable cities to proactively manage congestion, avoid accidents, and reduce environmental impact. They utilize next-generation hardware and software to optimize road infrastructure and improve traffic flow. They also collect and analyze data from vehicles, sensors, and cameras. This data can be used to adjust road signs and signal lights. They can also be used to prioritize vehicles for transit, bike, and pedestrian lanes. Lastly, they can also be used to predict future road conditions.
With the increasing popularity of ride-sharing services such as Uber and Lyft, smart traffic management solutions are becoming increasingly popular. These traffic solutions can help improve safety, ease traffic congestion, and make the city more accessible for the population. These solutions can even allow more efficient use of the city's transportation infrastructure.
One such system is the NoTraffic traffic light system, which uses computer vision and V2X connectivity to detect cars approaching a particular intersection. It can then determine how many cars will arrive from the previous intersection and how this will impact congestion at the next. It then sends this information to a nearby edge device, which can synchronize all the traffic lights in the area. This technology can significantly reduce traffic congestion and improve travel times.
Another example of a smart traffic solution is the CityFlow route planning system, which helps city officials plan efficient routes for their public buses. The system also offers priority access to emergency vehicles. This tool is extremely useful for urban planners, especially in dense metropolitan areas.
Communication
City planners face an uphill battle in a world where budgets are tight and traffic congestion is a constant challenge. Cities need to be able to efficiently manage traffic flow and keep people safe. The best way to do this is with intelligent transportation systems. These technology solutions allow cities to place a virtual management layer on top of existing infrastructure, improving performance and reducing costs. This makes it easier for transportation departments to achieve their goals and improve the overall quality of life.
ITS technologies include road and vehicle sensors, connected video monitoring, and traffic control automation. These systems help reduce traffic congestion, optimize intersection wait times, and increase safety for pedestrians and drivers. They can also provide valuable data to road managers, which helps them make better decisions.
The key to implementing these technologies is communication. Intelligent traffic solutions connect all of these devices to each other via a wireless network. This information is sent to the central system, where it is analyzed and stored. Traffic signals are then modified to reflect the changes in conditions and reroute drivers accordingly. In addition, intelligent traffic systems can monitor and identify potential hazards on the road, such as dangerous crossings or bad weather conditions.
One of the most important uses for intelligent traffic solutions is in public transit systems. In this sphere, it is important to communicate with passengers about real-time traffic and weather conditions. For example, a system that allows buses to communicate with traffic lights would enable faster transit times. The system could even send a message to the bus driver to speed up or slow down if necessary.
Similarly, smart car systems can communicate with each other to warn drivers of potential dangers on the road, such as an unexpected pedestrian crossing. This is useful, especially in areas with dense pedestrian populations, such as Portland, Oregon. The city's public transit agency, TriMet, uses infrared meters that transmit vehicle data to traffic light receivers to time stop lights.
The most effective intelligent traffic solutions are those that can work with various traffic infrastructures and vehicles. For example, a system that can work with freeway on-ramp meters and bus rapid transit lanes will be much more efficient than a solution that only works with traditional traffic lights. In order to achieve this, an intelligent transport system should be designed with a broad range of hardware and software components that can adapt to a variety of conditions.
Follow – https://sggreek.com for More Updates