We all have lived those days when having a birthday party simply meant we would be having a cake at our dinner table. The flavor of the cake would pineapple. Those nostalgic memories of our childhood days can be a medication for some and fuel to many. Without harming those pretty birthdays and the memories attached to them, come let us have a look at some of the health benefits of having pineapple in our diet.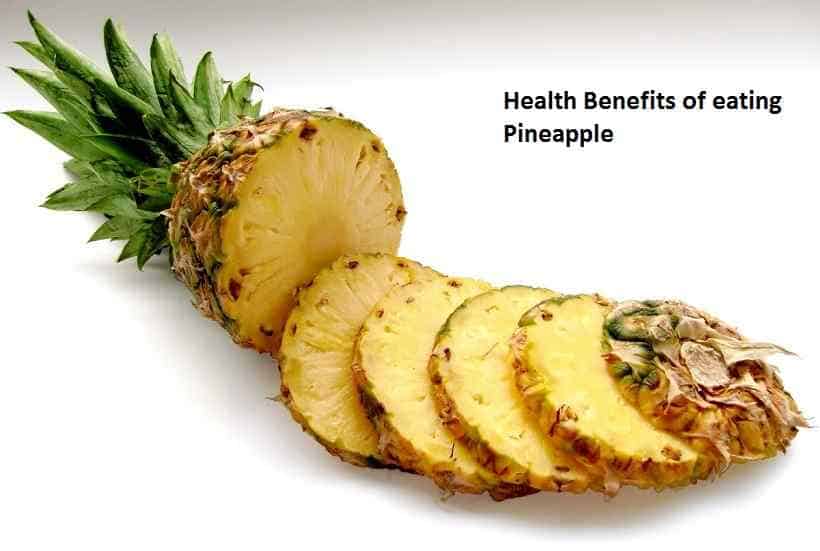 Below, certain points would help you adapt Pineapple in your regular diet.
Nutrient Loader- Pineapple is known to be a fruit that is loaded with nutrients and most of these nutrients are rare to find in any other fruit, altogether. Some of the nutrients present in Pineapple are calories, fats, protein, fiber, vitamin B6, iron, manganese, niacin, folate, vitamin C, thiamin, copper, riboflavin, etc.
A Fighter Fruit- This is obvious after a single fruit has so much to serve the eater, it tends to be a good antioxidant. Pineapple is known to be a disease healer fruit and has flavonoids and phenolic acids as antioxidants. These help in building immunity and making us a better fighter.
Digestive Enzymes- This fruit has a bunch of digestive enzymes called bromelain. These enzymes help in breaking down protein molecules into amino acids and small peptides. And when this happens, it appears to be easy for the enzymes to get digested in the small intestine and so on.
Reduces Cancer Risk- Pineapple contains compounds that reduce oxidative stress and inflammation, both of which are linked to cancer. One of these compounds is the enzyme bromelain, which may stimulate cell death in certain cancer cells and aid white blood cell function.
Eases Arthritis- Pineapples have bromelain, which has an anti-inflammatory factor, it's usually thought that they may give pain relief for those with inflammatory arthritis. The anti-inflammatory factors of pineapple may give short-term relief for people with regular types of arthritis.
Heals Injury- Pineapple is one such fruit that helps in speeding the recovery of any injury or operation, that a person might have gone through. The enzymes present in pineapple helps in healing the injuries, scratches, operation. Get this fruit added in your diet if you are a clumsy slipper, pineapple will help you get healed quickly.
Tastes Delicious- Pineapples are sweet, convenient and easy to incorporate into your diet. Adding them to our regular diet would make us look healthier. Some of the dishes that you can incorporate pineapple in are-
Breakfast: Pineapple, blueberry, and Greek yogurt smoothie
Salad: Tropical roast chicken, almonds, blueberries, and pineapple salad
Lunch: Homemade Hawaiian burgers
Dinner: Baked ham with pineapple and cherries
Dessert: Pineapple fruit salad
So, now you know how healthy and helpful Pineapple can be if added to the daily diet. Also, now choosing Fresh Pineapple Cake for your party celebrations would not be a bad option. Look out for some more variants of having pineapple in our diet and get a tasty bite of it.