Let's assume here that your business has already been running Google Ads. Or, maybe, you have signed up for Google Shopping. One of the things that you will notice right off the bat is that the field is rather congested! Whatever you do, there are probably already tens of people who are doing the same thing. So, how do you get ahead of the competition in this cutthroat arena? There are, of course, a number of things that you can do to make your ads and your listings competitive. One of these is to ensure that you get Seller Ratings in Google Shopping and in Google Ads.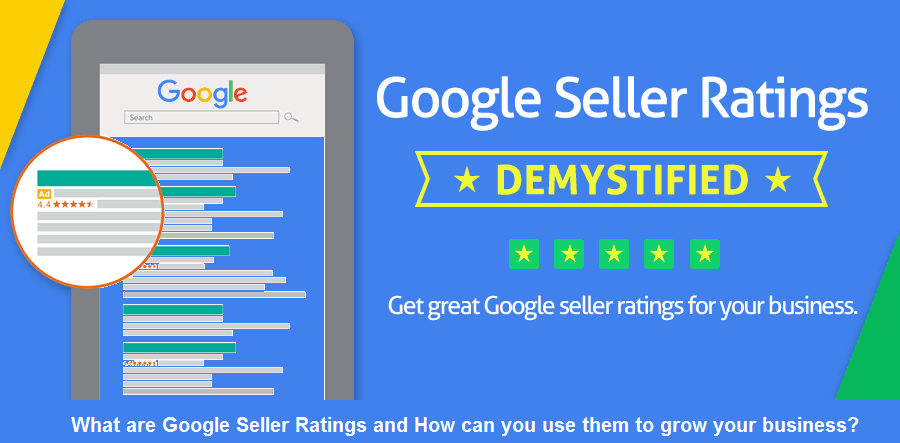 What are Google Seller Ratings?
Carry out a search on Google from most parts of the world and chances are high that, along with the normal organic search results, you will get ads from various companies at the top of your Search Engine Result Page.
One of the things that you may notice is that some of these text ads have golden stars at the bottom. These are what are referred to as Seller Ratings. Seller Ratings also appear on your listings in Google Shopping. The system is comprised of 5 stars, though Google will not show Seller Ratings if you have a rating that's below 3.5.
Also Read: How many leads can I get from SEO if I stick at it for a Year?
Why are Seller Ratings important?
The fact of the matter is, not many people are presently harnessing the power of Seller Ratings in Adwords. But does that mean that you do not actually need to bother about Seller Ratings? Well, the answer is to that is 17%. That, according to Google, is the increase in your CTR that you can expect should you decide to harness the power of Seller Ratings. Indeed, getting Seller Ratings has the potential to significantly give your business a much-needed boost. But how does this work?
Seller Ratings are important because they give your ads and listings much-needed visibility within the crowded field that is Google Ads and Google Shopping. Research indicates that people are much more likely to click on an ad that has Seller Ratings than one that does not.
Seller Ratings are also important because they increase the trust that people have in your business. The online world is something of a jungle, and people are much more likely to feel comfortable entrusting you with their personal data, including financial data if they know that many of their peers have already walked down this road.
Where do Seller Ratings come from?
Google uses the data that it derives from online reviews for Seller Ratings. This makes online reviews rather important. If you wish to get those all important golden stars in your Google Ads and in Google Shopping, you need to make sure that you have provided a way for your customers to leave feedback about your business.
How do I get Seller Ratings?
If you really need a comprehensive guide on how to get Seller Ratings in Google Ads and in Google Shopping, check out the article in the provided link from Planet Marketing. The article talks about Star Ratings and includes detailed information about Seller and Product Ratings. What we can say here is that you get Seller Ratings in the following ways;
By signing up for Google Customer Reviews. Google Customer Reviews is free, and there is really no reason for you, if you run Google Ads or have listings in Google Shopping, not to opt in.
Google also gets data for Seller Ratings through the research that it periodically carries out.
Data for Seller Ratings also comes from Google Consumer Surveys.
Google also uses qualifying data from reviews on your own domain for Seller Ratings.
Google has licenses about 30 companies to syndicate data for Seller Ratings. You can find the complete list here. The thing to note about these companies is that you will actually need to pay varying amounts in order to get Seller Ratings.
What's the best option?
The easiest thing, if you are looking to get Seller Ratings in your PLAs and in Google Ads, is to sign up with one of the approved review syndication companies. This simplifies work on your behalf since most of these companies will automate the process of gathering reviews from your customers, as well as pushing them to Google and other search engines.