University brings an exciting and fun time in a person's life, and you get the chance to explore yourself and find out your style. However, choosing the perfect outfit every day can become a hassle.
For university, most people like to stick with a casual or semi-casual look. Therefore, if you are going shopping for your next semester, here is a list of some voguish dresses that you should add to your wardrobe.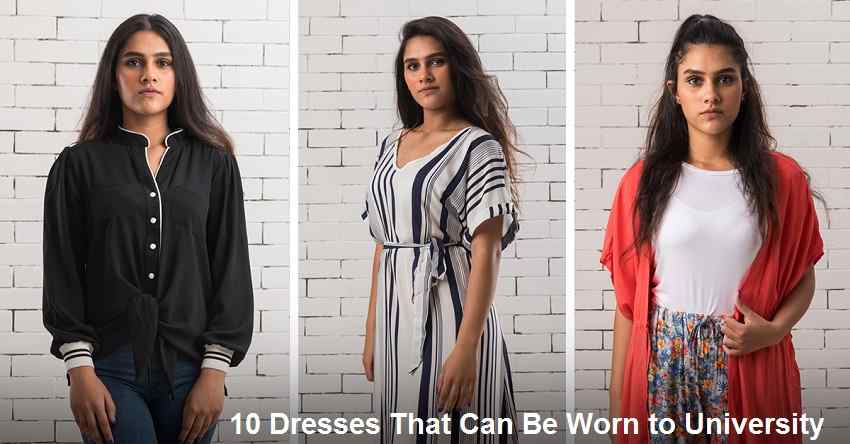 Denim dress:
Denim has always been in style, and it isn't showing any signs of slowing down. Denim dresses can come in different lengths and styles; however, their main feature is that they are made from denim, as the name suggests.
They are the perfect option if you don't want to slip into a pair of tight jeans. They give you a casual and effortless look that is perfect for university.
A Minidress:
Though the name may make this dress sound scandalous, it is far from it. Mini dresses are really in fashion these days, and they are like shift dresses, but with a higher hem. These dresses are perfect if you want to flaunt your legs and make the world turn. However, they are a predominantly summertime dress.
A bell sleeve dress:
These dresses can have different silhouettes and hems of variable lengths, but the defining feature that sets them apart is the flared sleeves. The sleeve usually ends near the mid-forearm, and flared fabric makes up the rest. It makes the sleeves look like bells; hence these dresses are called bell sleeve dresses.
Because of the long sleeves, these dresses are also wearable in winter. You can wear high boots and tight with them and throw on a stylish scarf to complete the winter look
A Midi dress:
As university usually starts when the weather is still quite warm, a cool and classy Midi dress can be a great option. These dresses can have either a deep or a round neckline, and the sleeves don't have to be short either. Therefore, this comfortable dress can also be worn in the winter.
Instead of sneakers, pair this dress with tights and ankle-high boots, and throw on a denim jacket, and your winter university outfit is ready to go.
A pinafore dress:
Pinafore dresses are also quite popular these days, and they can make for the perfect university dress. The dress is comfortable and casual, yet it gives you an elegant and classy look. These dresses are collarless and have medium-sized straps on the shoulders.
This fantastic dress is suitable for both winter and summer. In the winter you can wear a stylish turtleneck under the dress and throw on some tights or leg warmers. As these dresses are usually sleeveless, they are perfect for wearing jackets over as well. A beautiful leather jacket, with a nipped waist, or a denim jacket, is ideal for the winter look with a pinafore dress.
Tea Length Dress:
A tea-length dress is a perfect attire if you are going for a classy and fun look. These dresses are perfect for spring and summer as they are made of light fabrics. They are comfortable and easy to carry, and they are perfect for wearing to university, where you will have to walk around the campus a lot to get to your classes.
The hem of the dress is usually at a mid-calf length, and you can pair the dress with some classy sandals or sneakers.
Peplum Dress:
The peplum dress is perfect for girls with a playful style and energetic personality. This press is ideal for wearing during the day, and if you want to look stylish yet fun, this is the way to go. Peplum dresses are usually sleeveless and have high hems, which means that they are a summer dress.
The peplum dress gives you a casual look, and you can wear almost any shoes with them. However, if you are wearing a peplum dress to the university, you should wear sneakers that are easy to walk in.
T-shirt Dress:
A t-shirt dress is the ultimate casual outfit. It is comfortable, chic and unique, and it allows you to express yourself through your outfit. As the name suggests, a t-shirt dress looks like a long, loose-fitting t-shirt; however, they have some elastic fabric added to the hips to keep the dress from shifting and to accentuate your figure. The dress has a round collar and a hem that sits above the knee.
These dresses are an excellent option for wearing to university, as your movement is not restricted in them. Though it may not seem like it, these dresses can also be worn in the winter. You can wear some jeans or tights under them, or you could go for thigh-high boots for a more alluring look.
The best thing about t-shirt dresses is that you can have them custom made. You could even wear an oversized t-shirt and throw on a belt around your waist to turn it into a dress if you want to express yourself through a custom-made t-shirt dress visit getbold.com, which is a popular clothing customization website.
A-Line Dress:
A-line dresses are currently quite fashionable. These comfortable and chic dresses have a distinct fit at the hips and flare out towards the hem. They give you a tall and slender silhouette, and they aren't constricting, which makes them suitable for wearing to university.
The nipped waist and flared hems make the shape of these dresses look like an A, which is why they're called A-line dresses.
These dresses give you an ideal semi-casual and classy look that is perfect for university. A-line dresses can be found with and without sleeves, and they are suitable for all weathers. You can easily style them up with a classy jacket for winter. Therefore, if you are looking for a dress to wear to university, you should add some A-line dresses to your wardrobe.
Sundress:
As the name suggests, these dresses are suitable for the summer. They are made from a light fabric, and they usually have a lively and floral pattern. These dresses will give you a relaxed, fun and classy appearance and they are effortless to move in as well.
Every woman who likes to wear dresses should have a couple of sundresses in her wardrobe.
To sum it all up, finding something stylish and elegant to wear for university every day is not easy, especially if you are looking for dresses. However, in this post, we have listed some of the trendiest casual and semi-casual dresses that will make for a perfect university outfit.