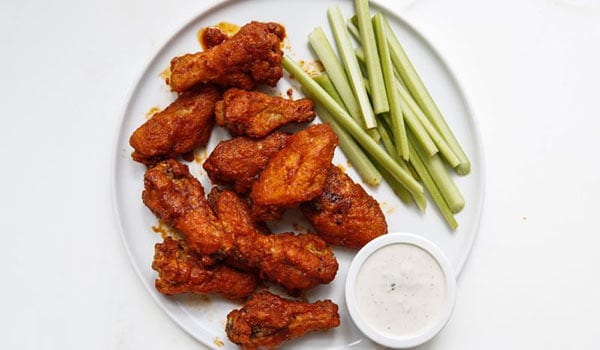 When you're hungry for something delicious and filling, you should search "wing delivery near me." Buffalo wings are flavorful, fun to eat and can be delivered directly to your door. All you have to do is order them online.
How To Get Chicken Wings Delivered To You
What are your delivery options? If you order Buffalo wings from Papa John's, you can request delivery from locations that offer the service. If your nearest store only offers carry-out, you can use a food delivery app instead.
Why Papa Johns Has Some of the Best Buffalo Wings
Papa John's buffalo wings are packed with flavor, which is why many customers consider them the "best buffalo wings near me." Tender and juicy, these wings are great on their own or dipped into one of Papa John's side sauces:
Honey chipotle
Honey mustard
Barbeque
Buffalo
Blue cheese
Ranch
Special Garlic
What the 10 Best Chicken Wings Are
One of the best things about Buffalo wings is how many options there are. With so many choices, you can satisfy even the picky eaters in your group. So which flavors should you choose when placing your order? Here are the 10 most popular options.
1. Buffalo
Buffalo sauce is a classic, so it's no surprise that it's at the top of the list. Buffalo sauce is pretty spicy, as it's made with cayenne pepper and hot sauce, but that's why fans like it.
2. Honey Chipotle
Honey chipotle is a type of barbeque sauce that leans into sweetness. People who like a little kick with their sweet sauce will enjoy this option.
3. BBQ
BBQ is another classic for chicken wings. Slightly sweet and tangy, BBQ sauce is an excellent option for fans of the traditional barbeque, as it has notes of smoke without the long grilling process.
4. Unsauced and Roasted
Sometimes the simplest recipes are the best. Individuals who dislike messy food can get roasted, unsauced chicken wings that are just as tender and delectable.
5. Sweet Chili
Fans of spice will love sweet chili sauce, which is a flavor journey from sweetness to heat. This option also goes well with ranch or blue cheese.
6. Honey Garlic
You can still enjoy wings even if you don't like spicy foods. Honey garlic sauce isn't spicy at all but still offers bold flavors.
7. Cajun
If you're not a fan of sauces, Cajun is the way to go. Instead of slathering wings in sauce, Cajun chicken is made with dry rub seasoning.
8. Nashville Hot
Nashville hot is near the top of the spicy scale. Fans love the creamy sauce named for the city where it was invented.
9. Mango Habanero
Mango habanero is one of the spiciest offerings at most restaurants. The interplay of sweet mango and intense habanero makes for a unique taste.
10. Lemon Pepper
Lemon pepper is another great option if you're not a fan of excessive heat. The pepper has a slight kick that's well-balanced by the citrusy lemon.
Whether you want a snack or need a full meal, you should search for "chicken wings near me." You can get a hearty serving for an affordable price and enjoy a truly delicious dish.