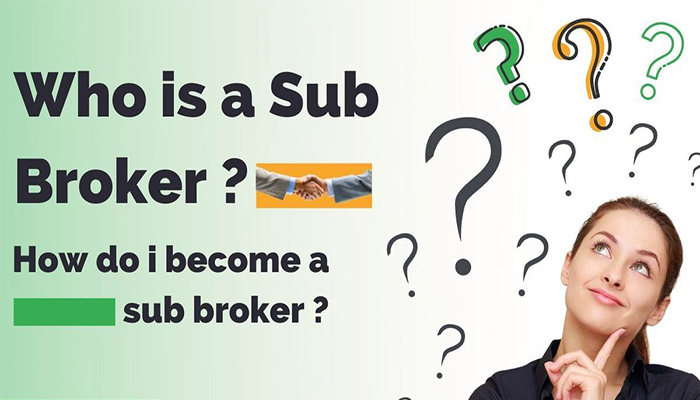 A sub-broker is an intermediary between a stockbroker and an investor. To start a partnership business, a sub-broker has to make an initial investment deposit to the stockbroker. The amount may range from a minimum of Rs 50,000 to Rs 3 lakhs.
The stockbroker provides a sub-broker agreement with the deposit amount, fees, and other essential information mentioned in it. The deposit is a one-time payment and is returned to the sub-broker once the agreement is over.
But can you become a sub-broker without giving any deposit? Well in many instances you can do that. Let's discuss them here.
Sub-Broker Business Models
There are four common business models for sub-brokers. Your deposit will depend on the model of business you are entering into a partnership with the stockbroker.
Master Franchise: You can directly obtain a franchise from the stockbroker. There will be a dedicated office space under the banner of the brokerage firm. You need to make an initial deposit as a franchise fee to start your business.
Authorised Person

: You are registered as a franchise and as a trading member of the exchange here. Similar to the previous model, you need to make an initial deposit as a franchise fee to start your business.
Remisier:

You act as a representative here and bring new clients for the stockbroker. A

Remisier

gets a commission from the stockbroker. The percentage of revenue is low in comparison to the above two models and the deposit amount is also very nominal.
Introducer:

You act as an agent of the stockbroking firm and once the client gets converted, an Introducer gets their commission. The commission is fixed per client and there is no deposit money required for this format. 
Importance of Deposit Amount to Stockbrokers
Stockbrokers require the deposit money for security reasons, in case, the sub-brokers fail to make the required payment. On depositing the security amount, a sub-broker becomes eligible to open a Demat and Trading Account with the brokerage firm. 
A sub-broker can make the money deposit in cash or as shares. Often, the percentage of revenue depends on the security deposit given to the stockbroker. The more the security deposit, the higher is the percentage of revenue. 
However, with new brokers entering the market, many stockbrokers allow zero investment/ no deposit partnership to expand their business. 
Become a Sub-broker without Deposit
There are so many brokerage firms competing in the market to provide sub-brokership at a low cost. The best possible way to do so is to reduce the security deposit or charge no deposit amount at all. New entrants, especially in the market, are trying to expand their business by providing zero-deposit sub-brokership. 
Conclusion
If you are serious about entering into a partnership with a reputed brokerage firm, then the security deposit should not come in your way. If a stockbroker with a good reputation and a large client base guarantees a particular amount of trade, then you should join hands even if there is a security deposit. New entrants can come and go in the market. So there are chances of losing your credibility and business. 
It's best to start your business by investing in a well-established brokerage firm with a large client base even if there is a deposit to pay. 
Follow – https://sggreek.com for More Updates