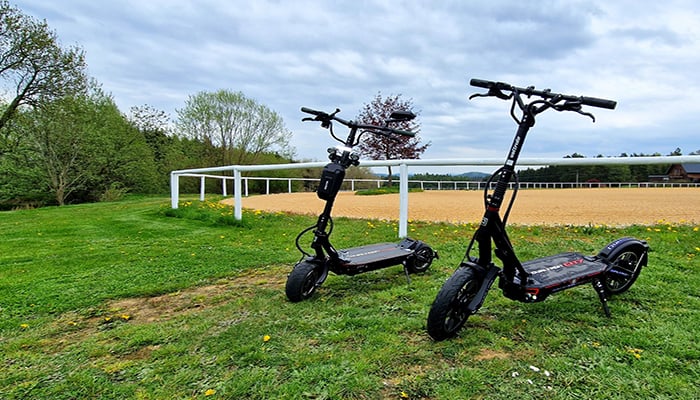 Are you tired of the daily grind of short-distance travel? Whether it's commuting to work, running errands, or simply getting around town, dealing with traffic, parking, and public transport can be a hassle. 
 Fortunately, there's a solution that's been gaining popularity in recent years—e-scooters. These nifty devices offer a fast, convenient, and eco-friendly way to get from point A to point B without breaking a sweat. In this blog post, we'll explore how e-scooters can improve your short-distance travel and make your life a little easier. So, let's dive in and discover the benefits of e-scooters.
Advantages of E-scooters for Short-distance Travel
E-scooters offer several key advantages for short-distance travel:
First and foremost, they're cost-effective. Unlike owning a car or public transport, e-scooters require minimal maintenance and are relatively inexpensive.
Secondly, e-scooters are eco-friendly. They emit zero emissions and are powered by rechargeable batteries, which means you can reduce your carbon footprint and contribute to a cleaner and greener environment.
Thirdly, e-scooters are time-efficient. They can weave in and out of traffic and avoid congested roads, which means you can get to your destination faster and without the frustration of being stuck in traffic.
Lastly, e-scooters are incredibly convenient. They're lightweight, easy to fold and store, and can be taken on public transport or stored in the trunk of your car when you're on the go.
Choosing the Right E-scooter for Short-distance Travel
 When selecting an electric scooter for short-distance travel, there are a few key factors to consider. First, consider the weight and portability of the scooter. You want something that's lightweight and easy to carry, so you're not lugging a heavy scooter around.
 Secondly, consider the speed and range of the scooter. You want something that's fast enough to get you where you need to go, but not too fast that it's dangerous. You also want something with a decent range, so you're not constantly recharging the battery.
 Lastly, consider the durability and quality of the scooter. You want something that's built to last and can handle regular use. It's also important to consider the price and value for money.
Safety and Etiquette When Using E-scooters
 When using e-scooters, safety is paramount. Always wear a helmet and follow traffic rules to avoid accidents. You should also check the scooter before use to ensure everything is working.
 Additionally, proper etiquette is significant when using e-scooters. When parking, be considerate of pedestrians and other users of the sidewalk. Always park in designated areas or where it's allowed. And remember to share the road with pedestrians, bikes, and other vehicles.
Conclusion
E-scooters offer a fast, convenient, and eco-friendly way to travel short distances. They're cost-effective, time-efficient, and require minimal maintenance. However, it's critical to choose the right e-scooter for your needs and follow proper safety and etiquette when using them.
 If you're looking for high-quality e-scooters, check out the Apollo Scooters online store. They offer a wide range of scooters that are perfect for short-distance travel, with features such as long battery life, durability, and lightweight design. So why not upgrade your short-distance travel game with an e-scooter from Apollo Scooters?
Follow – https://sggreek.com for More Updates