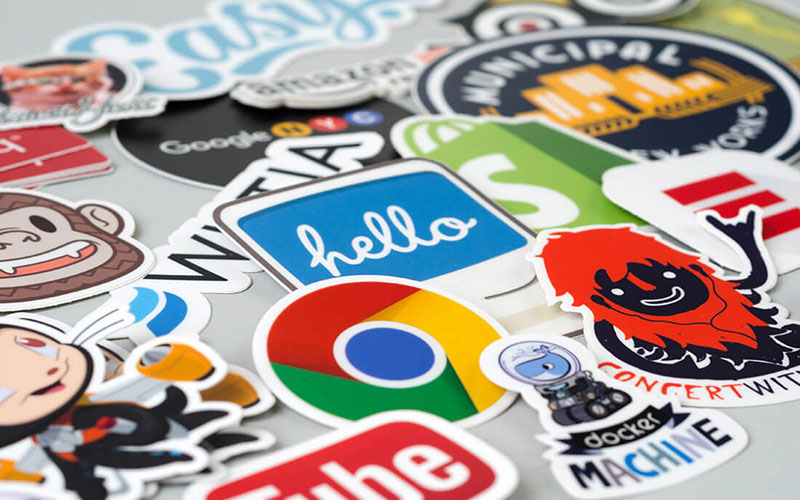 Are you starting out as a business or want to redefine your old one? If yes, how do you plan to go about it? I'm sure you must be pretty confused. But don't worry, the best is yet to come! 
I'm going to mention tell you how you can use customized stickers to your advantage which leverages your branding and gets people talking about you.
To invite more visits to your store or office, your branding strategy must be ready. You must know whom to target and how to target. Once you figure that out, things will seem less blurry. But it wouldn't be enough. Advertising comes first on the priority list of branding. You might want to get a banner designed, or hand out some pamphlets in your area. 
Apart from that, you could also add your business' essence to the products that you are selling. For example, if you are opening up a bakery, packing the products in boxes printed with your brand's logo would be the best idea. This will upgrade your brand's authenticity and visibility.  
But what is it about vinyl stickers in particular that makes them a great business investment? Why should you consider investing in them to promote your brand to your target audience, regardless of what you do or sell?  This article explains a powerful marketing tool for small businesses.
Precise Detailing 
For one thing, today's vinyl sticker printing technology allows for stickers of all shapes and sizes to be printed with 100% perfect accuracy. Photo-quality printing with clear lines and outstanding colour reproduction provides a powerful statement about your firm at an affordable price.
Durable and Long-Lasting
Premium-quality logo sticker printing also represents outstanding value for money, given that they are incredibly durable and long-lasting. They may be used indoors or outside, enduring all weather conditions without losing their shine. A perfect alternative to more pricey outdoor marketing materials.
Limitless Shapes and Sizes
Not only can the content of vinyl stickers be modified, but so too can the shape and size of the sticker itself. This makes it comparably easier to come up with a design that differentiates your products or your business from the competition. It also offers boundless potential in terms of the size of the stickers you print
Fast and Simple Application
Of course, it also goes without saying that vinyl stickers are among the quickest and easiest marketing items of all to set in place. Particularly when it comes to adorning storefronts, the ease with which vinyl stickers can be applied (and removed) makes them a popular choice. There is also the benefit of being able to remove quality vinyl stickers from most materials, without leaving any sticky or ugly residue behind.
Product Labelling
Vinyl stickers can also create a beautiful, accessible, and economical alternative to the standard product marking methods. The best thing about customized stickers is that you don't have to stick to a palette of limited designs. So, get your creative juices flowing and simply design the appropriate labels for your products, stick them in place and you're good to go!
On-The-Go Marketing
Last but not least, one of the most popular uses for vinyl stickers from a commercial standpoint is of capitalizing on affordable mobile advertising. Vinyl stickers are great for taking the show on the road — simply attach a lot to your cars, vans, or company vehicles for a cost-effective mobile marketing campaign.
A Headstart For Promotional Events & Offers
If you operate a small business with a storefront and are organizing an event, discount, or offer, you can use your front window to promote it. People strolling by or driving by happening to be glancing at your store. Large bespoke stickers or a cut vinyl decal in your window telling potential buyers of an approaching sale can get people pumped up about your offer even before it begins!
The Perfect Fit For Warning Signs
We've all been accustomed to seeing bright yellow circles on the floor or at doors in whatever stores we visit. These warnings have prominent black wording instructing to do or refrain from something. For safety or discipline reasons, vinyl stickers prove to be the best resources available.
 This article explains a powerful marketing tool for small businesses. Assume you have a room in your company's facility that requires a warning notice informing clients to stay away. In such a situation, vinyl lettering and bespoke stickers would be ideal.
Elevates Surroundings 
It's not just about marketing. Stickers are also installed at places in your store where they make them look less dreary and vacant. Many business owners place stickers on windows and walls to cover up empty spaces. Personalized decals and stickers will adhere to any flat surface, including the floor and walls of your company or store.
This Was It 
Just like that, customized stickers and advertising go hand-in-hand. Stickers are the easiest and most convenient way to get your brand's name out there and they are super easy to design and stick to almost any surface. Although they have been a marketing staple for decades, they rarely get the credit they deserve. Vinyl stickers are versatile, long-lasting, and inexpensive, allowing for virtually endless creativity.
 If you haven't used them yet, you better do them now. 
Follow – https://sggreek.com for More Updates