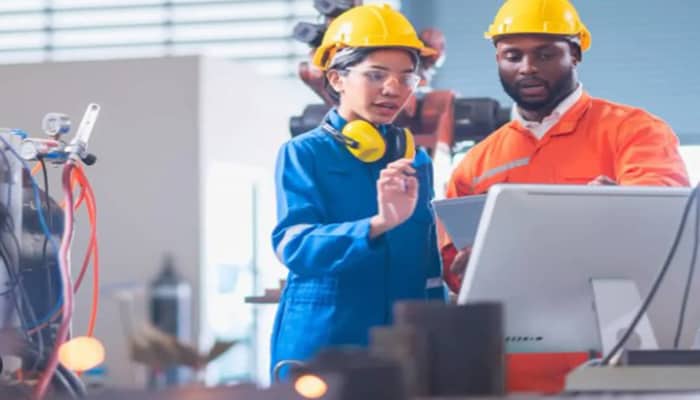 If you're looking to generate six figures without a college degree, there are many options available. Trade jobs are manual labor professions that require specific skillsets and expertise but don't necessarily require a college degree.
Some of these jobs require some physical activity, though it's not as dangerous as it may seem. If you're interested in pursuing one of these positions, there are some things to consider first.
Industrial Mechanics
Industrial mechanic jobs install and repair industrial equipment in manufacturing plants, refineries, mines, and energy plant buildings. If you're mechanically inclined and enjoy tinkering with machinery, this could be the right career for you.
To be an industrial mechanic, you need a high school diploma and some experience working in the field. You also need strong manual dexterity, which is important for troubleshooting and repairing heavy pieces of machinery.
As an industrial maintenance worker, you'll work in various industries, including manufacturing, oil and gas, mining, food processing, and transportation. You'll help to maintain industrial equipment and machinery by completing routine maintenance, such as lubricating and cleaning machines, ensuring they operate safely, and performing repairs when necessary.
In this job, you'll often travel across the country to work at a number of locations. If you're willing to do so, this can be a rewarding and challenging career that pays well.
You'll be able to choose your projects, so it's a good choice if you want something that gives you flexibility. You can specialize in specific work areas, such as telecommunications equipment or power generation.
As industrial equipment becomes more complex, the need for skilled professionals to keep it running will continue. As a result, employment for these jobs is expected to grow 13% over the next decade, according to the BLS.
Telecommunications Line Technicians
In this career, you work with telecommunications equipment to bring communications signals to customers' homes and businesses. These systems may include telephones, internet connections, and voicemail boxes.
Depending on the company, you can work in any area of the telecommunications field, including central office technicians, headend technicians, home installers, and repairers. Some positions require a bachelor's degree, while others only require a high school diploma or vocational training.
Telecommunications equipment installers plan network installations by studying customer orders, plans, manuals, and technical specifications. They then order all necessary hardware and tools, assess the installation site, and prepare an installation diagram.
Telecom equipment installers run and splice cables, install telecommunications equipment, routers, switches, fire-suppression systems, and alarms, and test the system to ensure it works correctly. They also maintain and update written and digital records.
You may be called upon to respond to unexpected service problems. This often means working nights, weekends, or holidays to keep clients up and running.
In this career, you use computer and diagnostic software to help identify and diagnose telecommunications equipment problems. You can use these skills to help you earn higher wages and improve your job prospects. You also need to be able to solve problems and be aware of system operations to react quickly to problems.
Power Plant Operators
Power plant operators work to generate electricity from fuel sources like natural gas, coal, oil, nuclear energy, or renewables. They maintain control boards and specialized software programs to ensure generators run smoothly and monitor the flow of electricity from the power plant to the substations where it is distributed to consumers.
This career offers a high level of responsibility and excellent pay. According to the Bureau of Labor Statistics, power plant operators earn a median annual salary of $84,650. The top 10 percent of this profession earns more than $110,590 annually.
To become a power plant operator, you usually need a high school diploma and on-the-job training. However, some employers may prefer to hire those with postsecondary education.
A power plant operator works with a variety of equipment, including turbines, pumps, and boilers. They typically work on rotating shifts, sometimes during nights and weekends.
One of the highest paying blue-collar jobs, nuclear power reactor operators regulate energy flow and implement safety procedures. They also keep track of data that assists them in making decisions.
In this career, you'll have the opportunity to travel to remote locations and work under harsh conditions. In addition, this job pays well and offers opportunities for advancement.
Despite their high-paying status, these trade jobs can be very difficult to get into. You'll need a lot of hard work and dedication to get there.
Some of these careers require a college degree but offer plenty of room for advancement. As the economy continues to improve, these industries will see a significant increase in demand. The BLS estimates that 29,000 power plant and systems operators will be available by 2030.
Cable Technicians
Cable technicians install and repair telecommunication networks and help improve the speed and reach of broadband communications. Their job responsibilities include diagnosing and fixing network problems and educating clients on how to best use their cable services.
To become a successful Cable Technician, you need a combination of technical expertise and soft skills, such as strong problem-solving abilities and excellent communication skills. Additionally, you need to have physical fitness since this career involves high manual labor, such as climbing ladders and carrying equipment.
The telecommunications industry is an ever-growing field, and as technology advances, so does the need for skilled professionals who can keep up with it. As such, there is a significant demand for Cable Technicians who can provide seamless and efficient service to customers.
Currently, the majority of Cable Technician salaries across the United States range between $47,500 (25th percentile) and $85,000 (75th percentile) annually, suggesting a wide variety of opportunities to improve your income by improving your skill set, gaining experience, and networking. In addition to salary, some technicians also earn certifications that make them more highly paid.
For instance, BICSI Registered Communications Distribution Designers (RCDD) earn 24% more than those who have not completed the training. Meanwhile, Fluke Networks Certified Cabling Test Technicians (CCTT) earn 22% more than those who have not received the certification.
If you are interested in a rewarding, stable, and lucrative career in the telecommunications industry, consider becoming a Cable Technician. With the growing need for seamless and reliable connection to high-speed internet, a Cable Technician position is an ideal choice for those looking to build long-term careers in this ever-changing industry.
Solar Energy System Installers
Solar energy system installation is a growing industry. It can be an excellent way to save money on energy bills and help the environment. The cost of installing a system is declining as technology improves, and there are many government incentives to make solar more affordable for more people.
Professional solar installers are highly trained to design your home's perfect solar power system. They can take into account your roof orientation and shading to ensure you get the maximum solar output possible.
In addition, they'll be able to design a system that matches your aesthetic tastes and fits into your roof space. Today, solar panels are available in a variety of colors and designs to complement the style of your home or business.
One of the biggest advantages of solar energy is that it generates clean power without emitting harmful emissions or causing climate change. Because of its low carbon footprint, solar is being embraced by homeowners across the sociopolitical spectrum.
Another benefit is that the installation of a solar power system can increase your home's value. Studies show that homes with solar panels tend to sell for more than similar ones that don't have them.
As the cost of electricity continues to rise, finding ways to reduce your utility bills is becoming more important. Installing a solar power system is an easy and inexpensive way to combat these increases.
Many states offer incentives to reduce the upfront costs of solar, including tax rebates. In addition, many lenders provide financing for solar projects. You can also participate in community solar programs, which allow multiple customers to share the cost of a ground-mounted solar array.
Follow – https://sggreek.com for More Updates