Doors are one of the most integral yet often overlooked pieces of our homes. They provide privacy, keep out pests and the elements, and more. Like the rest of your home, doors can wear out over time.
Whether you're shopping for entry doors, patio doors or other exterior options, do you know where to look for exterior doors Edmonton? This guide brought to you by the team at Window Mart will help you from A-to-Z.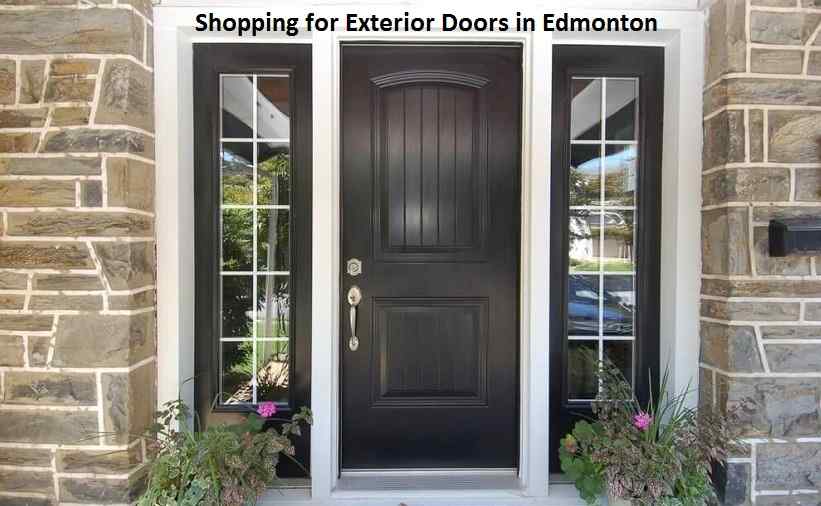 Know the Signs
The first question to address is how one should know they need an exterior door. The simple answer is to pay attention to how it operates, looks and feels.
Rust, Dents, and Dings
Doors withstand a lot of abuse. Certain damage is obvious and affects your curb appeal, but other damages may be smaller and harder to spot. Warped or cracked wood could mean heavy damage within the frame and door itself, as well. If your door isn't structurally sound, it's time to replace it before your worn down door does more harm than good to your home.
Shoving and Pulling
Opening your door shouldn't be a workout. Sticking could mean your hinges are sinking or you have gaps between the door and frame. These issues lead to poor energy efficiency and poor protection from pests and moisture.
Trapped Moisture
Many exterior doors in both the modern and past markets contain windows, often double-paned. If the seal degrades, moisture can seep in between the panes; this often leads to mildew and mould issues. It's far cheaper and less of a hassle to replace a door than to seek mold remediation.
The above are prime examples of when your door wants to let you know something is wrong. You could see one sign, all three, or even something not listed. When you start to notice the issues, it's time to research what kind of door to get and where to go for it. 
What Are Your Options When Shopping for Exterior Doors?
According to Canadian remodeling expert Mike Holmes (from the TV show Holmes on Homes), your exterior front door makes a first and lasting impression on everyone that passes by. But according to Holmes, it's not just the look of the door, but it's a performance that matters. When it comes to performance, the right materials matter.
Exterior doors are typically made from one of three main materials. These types of doors include:
Steel doors
Fiberglass doors
Wood doors
Wood is visually appealing and a timeless favorite, but also tends to be the most expensive and least durable over time, requiring upkeep and maintenance. Many fiberglass and steel alternatives can mimic the traditional look while providing better value and durability. But between the two, which is better?
Both have great energy efficiency, a range of styles, and offer durable, long-lived protection. They also have one main downside apiece: fiberglass is more expensive, but steel can rust over time. Customization options with some providers allow for panels, glass panes, hardware, and more to be switched around. 
Also Read: House Window Replacement within your Household Budget
Where to Go for Exterior Doors in Edmonton, AB
Shops that sell doors come in four major styles, each with their own pros and cons.
Local Brick & Mortar Stores
Friendly and local, these are physical stores ran by people who live in the area. But they often have limited options for doors and for payment.
Pros:
Nearby service and support
Benefits town economy
Discuss options with helpful staff
Easier returns process
Cons:
Limited options for doors
Standard hours of operation
Driving to get there
Potentially pushy salespersons
May or may not offer financing options
May or may not have a website
Online Shopping
Ever-convenient, online shopping appeals to those with hectic schedules or social anxiety. What can they offer in terms of doors?
Pros:
Convenient; no limit due to time or location
More selection
No pushy salespersons
May offer local partnerships for installation
Cons:
Can't see the doors in person, just in pictures
Shipping & Handling, different taxes based on site
May not offer installation
Harder returns
Data concerns
 Big Box Stores
International chain stores with large warehouses and mysterious corporations making all the decisions. Great for sales and convenience, but not always the best for service and selection.
Pros:
Often have physical and online stores
Tend to offer pick-up and delivery
Handle the installation
Company credit cards provide financing
Cons:
Limited support, especially before purchase
Pre-Manufactured options with little to no customization
Lower-quality materials
Limited selection based on partner brands 
Specialty Boutiques
They found a niche market in which to thrive. These stores focus their efforts specifically on windows and doors to offer the best of the best in services and products.
Pros:
Professional Service at all stages, including before and after
Knowledgeable, expert staff
High-quality materials and Brands
Sales, installation, and more
Cons:
May have limited product lines
May charge premium fees
Getting Started: Next Steps
Shopping for new exterior doors can be a daunting task. Hopeful this quick-start guide can help you get the process rolling. Try not to wait too long— the longer your door is vulnerable, the more damage is invited in.