Did you know that over 70 percent of searchers visit a business within five miles of their search location? Location services are becoming increasingly important for any smartphone user's online searches, and it's vital that your website is set up to target local customers.
Rather than placing posters around the neighborhood, implement the following three strategies to increase foot traffic through local SEO.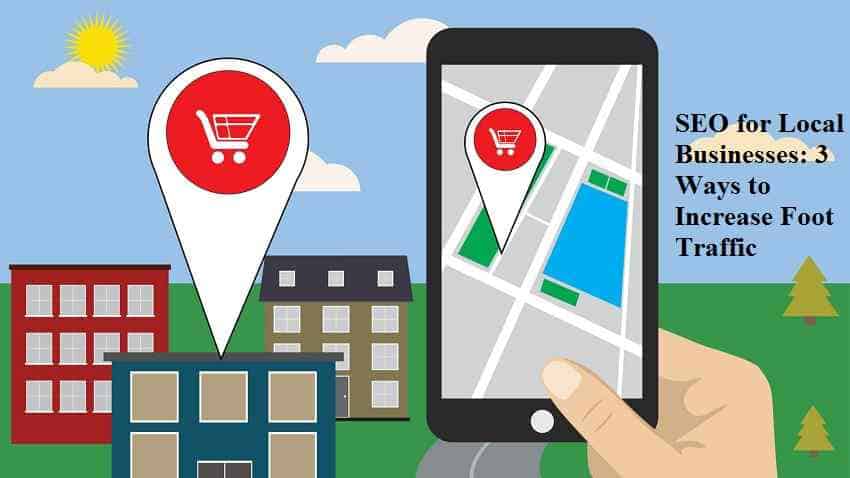 Update your website to include location information
While many people focus on link building and getting their website referenced by other websites with higher page authorities, the first place to start when it comes to increasing site traffic is to perform an audit of your existing content.
If your website doesn't reference your business' location, address, and the number of cities you serve, you could be hurting your local SEO. It's vital that this information is on your website since Google and other search engines crawl your web page for relevant keywords to help users find the information they need.
Having a contact page with your mailing information and phone number is also important, as Google pulls this information to populate its handy side cards about businesses that you sometimes see after a search. This kind of information means that a user may never actually visit your website in order to find your address or call with a question about a product or service, so it's crucial that you've optimized your website to reference your location and jurisdiction.
Another simple trick to implement while you're updating your website is to ensure that your location is included in any meta tags or page titles. This is as simple as changing a page title from "Contact" to "Contact Our Los Angeles Offices." While it may seem like a small tweak, all of these minor steps can stack up to make a big difference in your website's local web presence.
 Add your business to structured citations
Put simply, a structured citation is any reference resource that a user is likely to come across and use for a wide variety of needs. An example of a reference resource is the local events listing of an online publication (or a website like Yelp or Angie's List) that aggregates consumer reviews of local businesses.
If you can get on these websites, which already have a built-in audience, you can increase your website's performance for local keywords. These sorts of websites often have massive domain authority, too, which can pay double dividends when it comes to ranking higher in search results, local or otherwise.
Create organic citations for your company
One final way to boost your local traffic online is to run a link building campaign targeting local keywords. While there are plenty of Toyota dealerships across the country, if you target keywords like "Toyota dealerships in California," you're going to be competing with viewer businesses for traffic.
A usual strategy is to mix in a variety of local keywords, from broad geographic locations like a state or region to more localized keywords like cities and towns. This provides you with a healthy mixture of organic citations and increases the likelihood that someone nearby will come across your business when looking for local services.
With such a high return on investment, it should be clear how local SEO can benefit your business. If you've recently launched a brick and mortar operation after previously operating solely online, targeting local keywords can be a great way to boost online and in-person traffic. By retaining a company to handle your local SEO services, you can focus on growing your business, while a consultant handles your local search engine campaigns and helps you grow your audience.