Ringless voicemail drops (also referred to as ringless voicemails) are great resources to reach your target audience and follow up with leads, as well as spread awareness, through a message, delivered to a large amount of people at once.
There are, of course, other ways to connect with leads, such as through email or traditional mailers, but mostly everyone has a phone now. Plus, when you acquire contact information via pop-ups and other methods on your website, potential customers are asked to give you their names and phone numbers, which you can then be used to create your mailing list and use for your ringless voicemail drops.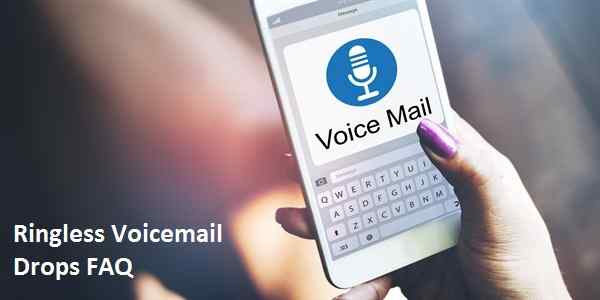 If you're interested in implementing ringless voicemail into your marketing strategy, here are five frequently asked questions.
What is a ringless voicemail drop and how does it work?
A voice drop is an act of leaving a voicemail on someone's phone without making a phone call. The voicemail is dropped directly onto the backend of the phone system so no call is ever made. This ensures your message is delivered to your audience without an annoying call or interruption during their workday.
Is a call ever made?
No traditional phone calls are ever made with ringless voicemails. That means the individual you're leaving a voicemail for doesn't get billed for the call, and there's no interaction between you and them. With this, though, this person still receives a voicemail from you consisting of your pre-recorded message, along with information for them to connect should they want to.
How much money do ringless voicemail drops cost?
Ringless voicemails might sound like a dream come true because you can leave important information in a person's inbox without having to talk to them. If these people are interested in what you have to offer or want to learn more, then they can dial your number. That begs the question: How much does this type of service cost?
It depends on the service you use; however, each voice drop tends to cost a couple of pennies and can even be as high as 10 to 20 cents — depending on the service provider you go with.
That might not sound like a lot of money, but it's important to keep in mind that most people's intent with voice drops is to reach as many people as possible in a short amount of time with the least amount of expenses.
Similar to an email blast in which you send one email to a large group of people at once, voice drops are also sent to numerous people at once, so the cost can add up depending on how big your list of leads is and how much the voice drop company charges.
Are ringless voicemail drops legal?
Voicemail drops are legal, but it's important to be compliant with the FCC, as well as marketing and communication rules and ethics.
Luckily, a quality voicemail drop company will have a built-in National Do Not Call list and compliance tools so you can ensure you're meeting rules and regulations.
It's always important to check with local and state laws to make sure you're following all the rules, as well as checking with your voicemail drop service provider to ensure every measure is being taken so you're being responsible with this service.
Are they effective?
The short answer: Yes.
Every business is different and uses different strategies as a result. Some strategies work better for some companies than others. With that said, the effectiveness of ringless voicemail is ideal and effective for several types of companies such as doctors who want to remind patients of appointments and organizations such as churches and schools that want to impart important information (non-emergency) to individuals without disturbing them.
Ringless voicemail drops are effective when it comes to spreading a message to a large amount of people at once, all with minimal effort. When done properly and responsibly, they do wonders. If ringless voicemails sound like they can be beneficial to your company, or you're looking for more information, speak with a service provider today.