Moroccan culture is full of exciting things, whether it's their food, culture or home decor items. Today, we have collected a few objects famous in Morocco, which you can bring home and make any area even livelier. Well, we do recommend a trip to Morocco to experience their culture. However, if that is not possible, all you have to do is shop online. Yes, Moroccan home decor and other items are now just a click away!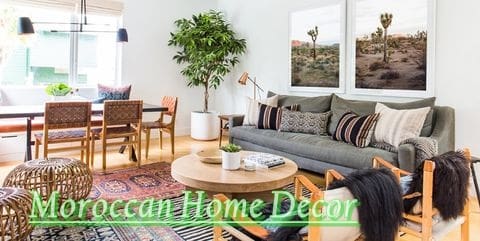 Do you love gleaming lanterns? 
Yes, lanterns are one of the most attractive objects you would find on the streets of Morocco. Now, this trend has won the hearts of many around the globe. From crazy bright colors ranging from pink, yellow and orange to dull shades, including dark blue or brown, the lanterns are just amazing. These lanterns come from different shapes and sizes. You will certainly fall in love with these lanterns.
Did you know that poufs originally belong to the Moroccan culture? They come in different designs and colors and are perfect to create a comfortable spot in any area of your home. Thanks to the wide variety available at online stores, you can bring home a pouf in coordination with your interiors. Place it in your bedroom, study room, living area, they are super versatile.
Love copper and brass utensils? 
When talking about Moroccan handicrafts, how can we ignore splendid brass and copper utensils made by efficient craftsmen? Though not very advanced in technology, yet the designs and the way they make these materials will grab your eyeballs. Go to any Moroccan decor store, and you will love the site of breathtakingly beautiful utensils, be it teapots or glasses.
Wait, this is not the end of the list, few other Moroccan items will certainly steal your heart once you are on a shopping spree to turn your home boho. 
Hey, we are talking now, isn't it? Who does not love rugs? Especially when they are crafted skillfully in intricate designs and beautiful patterns? From floral designs to landscapes, from wool to camel hair, these carpets rugs abound in the Moroccan market. Shades of brown, Royal Blue or dusky red are just irresistible. You would certainly love to take one for your home.
Oakwood furniture, also known as thuya, is famous for its smoothness and beauty. Furniture ranging from tables, stools, chairs to jewelry boxes are strikingly gorgeous. The artisans put in a lot of effort in polishing this furniture to give them luster. Then paint them in different shapes. Not only this, but you would also find each Moroccan decor store having wooden ceilings and wall decor on its display. This polished furniture will certainly attract all your attention.
Are you fond of ceramics? 
If you are one of those people who love to adorn their shelf in the dining room with materials of ceramics, you are going good on your shopping time! These Moroccan shops are touted for their ceramics as well. Dazzling red pottery materials range from jars to pots to showpieces. You will not be able to resist yourself without taking a few pieces for your home. So, start looking over the sites now.
Morocco is full of colors and art of craftsmanship. From rugs to ceramic, you would love to shop these items time and again. Hence, we recommend you visit the place or start collecting their art objects, only to fall in love with the Moroccan culture. Of course, not to miss, to decorate your home in the most beautiful manner.
So, did you add something to your cart yet?