Have you ever visited someone's house and their bathroom looked out of this world? Did it remind you of the bathrooms in expensive hotels? We wouldn't blame you if at that moment you also wanted to have a bathroom like that! A bathroom that looks expensive can change the look of your house as well.
Typically there is more focus on the bedroom or the living room of the house, but many forget the importance of its bathrooms. Your bedrooms can be well-decorated, but if the bathrooms are not maintained in a proper way, it can create the wrong impression in your guests' mind.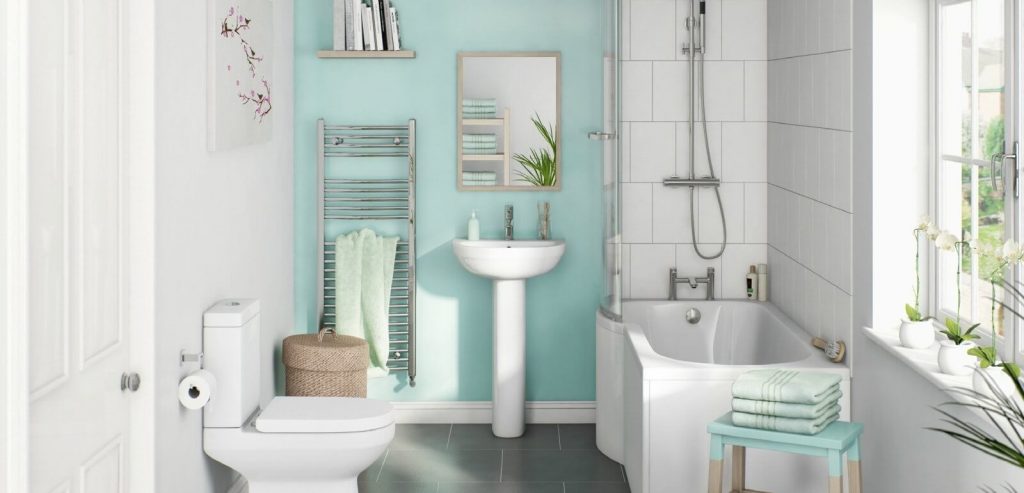 Creating a luxury bathroom does not necessarily need a big budget, contrary to common belief. If you have a flexible budget, you can still create the bathroom of your dreams. All you need are a few hacks, and you can create a space that you have always wanted to.
Here are some hacks that will help you redecorate your bathroom in the best way possible.
    Choose a Soothing Monochromatic Color Scheme
When you go to a spa, why is it that you feel relaxed as soon as you enter it? It is because the colors are soothing. Your bathroom is not much different from a spa. Most of the luxury bathrooms you visit will have the same rule applied to them. They will be painted in natural hues.
Create that spa vibe by choosing a monochromatic color scheme. A neutral color is not necessary for your monochromatic scheme. You can paint the bathroom in a beautiful blue or aqua color in multiple shades.
Creating a monochromatic color scheme is easy. Select a soothing color for the bathroom and then add darker and lighter shades of the same color. For instance, if your wall is painted in aqua color, you can paint your cabinets in a darker shade of the same color.
    Update Your Rugs and Towels
The only way to add texture and warmth in your bathroom is by adding towels and rugs (yes, rugs). When you are looking for the towels for your bathroom, choose towels that have rich details such as embroidered edges, monogramming, and ribbon trim. Turkish towels are a good option because they dry easily and have a light-weight feel.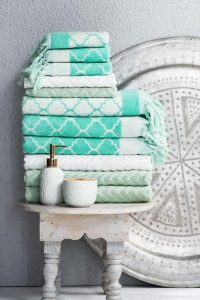 Many people may not be familiar with the idea of placing a rug in the bathroom, but it doesn't mean that can't be done. Rugs instantly give a luxurious vibe and create comfort. If your bathroom is big enough, you can place the rug away from the bathtub etc. You can easily get area rugs online or from any local store. Buy the rug in a neutral color, so it goes with the theme.
    Bring In the Greenery
I love bathrooms that give an outdoor vibe! Another technique used in decorating expensive bathrooms is by bringing in the greenery and nature. The purpose is to make your bathroom look relaxing and comfortable. What is more relaxing than nature?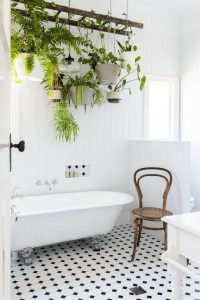 Most expensive bathrooms use the outdoors as the primary design element. If you want to decorate your bathroom like that, look for ways in which you can bring the outdoor elements inside. For example, new window treatments will let more light in. Buy some plants and artwork showing plants. Not only will they make your bathroom look amazing, but will also radiate positive energy.
    Paint the Wainscoting in a Neutral Color
Usually, people think that they have to paint the wainscoting white when it is not true. Yes, the color white has its own grace but painting the area in a neutral color will have a better effect. Even in the neutral colors, you have a vast number of shades to choose from.
For such painting projects, you should check the sample of the new color first. Use a piece of wainscoting and paint the colors on it. In this way, you can move the sample around the bathroom and get an idea from all the angles. It will help you make the right decision. Otherwise, you will paint your whole bathroom in a color that you may come to dislike.
    Use Tiles
Tiles can create a Zen retreat style bathroom. When you are redecorating your bathroom, it means you also have to redo the outdated tub surround. If your bathtub is not impressive, it can decrease your bathroom's value. Expensive bathrooms have tiled tubs and showers. Tiles have the power to create elegance even in the simplest of spaces.
Tiles can be expensive, but it is a choice that you will not regret. A timeless update in your bathroom is something you will need. How to choose a bathroom tile that will stay stylish? As usual, choose neutral colors and simple designs that don't get boring over time.
     Luxurious Wood Accents
Using wood as a decorative element will add a natural style in the bathroom. Wood gives the space a relaxed and calming style. You must have noticed how wooden flooring, and wooden furniture, makes any house look a hundred times better.
You can use wood as a horizontal wall design to create a space akin to a sauna at high-end resorts and ski lodges. The wood accents will look fantastic if you pair them with natural décor accents and neutral paint colors.
If you can, bring in some wooden or vintage furniture to complete the look. The rustic period décor will add a classic charm and appeal. Also, choose a stylish macerating toilet and bathtub that look vintage as well. It will look more than amazing.
    Wallpaper Accent
If you have enough ventilation, you should use wallpapers in the bathroom. Wallpaper can create a custom bathroom style. Use wallpaper with crown molding because it creates an elegant look. A wallpaper accent wall, especially in a powder room, can form a glamorous style. It would look better if you chose a wallpaper that has a simple yet elegant design.
Creating a high-end look for your bathroom is not a very difficult thing. The hacks we have mentioned above will be able to help you create an expensive looking bathroom! Happy Decorating! Check the guide on how to unclog a toilet without a plunger with simple steps.