From rich, elegant outfits to the bold bridal ensemble, Indian wedding swears styles are as diverse as the people of the country itself. Whether you want to keep your wedding ensemble low key or make a splash in style, there will always be a designer who can cater to your personal style and choice.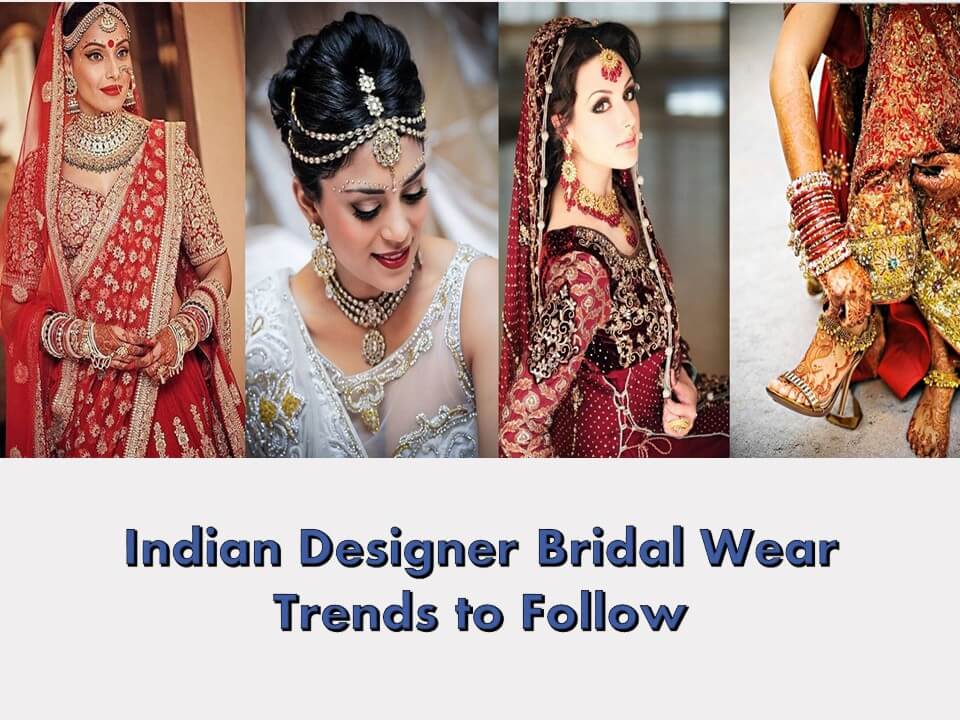 Bridal wear is a reflection of personal style and everyone should stay true to it. While picking an outfit for your big day, it should be the one that clearly reflects your personality and your individual style. At the same time, you need not compromise following the trend. A wedding combining the latest trends and your personal style statement makes a winning combination when it comes to your bridal outfit.
Now, what are the latest trend in bridal wear that you should look out for when picking your wedding ensemble?
Gold is to stay forever
If you stay in tune to recent fashion weeks, you might have noticed, gold is the new red in the bridal wear trend. Luxury lehengas in gold with rich embroidery and intricate design are not only ruling the ramp but also being flaunted by real brides. Gold has a unique charm that screams royalty and goes well for almost all Indian skin tones. Neutral colors like golden and beige combination are timeless and easily go with any special occasions or festive season. For gold outfits, a number of options like georgette, brocade, silk, and embellishments like sequin works, zari, and Zardozi. Regal all-gold lehengas would be a great pick for your wedding or reception function to make the style statement.
Florals are in
Florals are a hot trend in bridal wear and it is expected to stay. The floral onslaught that started in spring almost year is still going strong and will continue to be in limelight for coming years too. Brides who are looking or a feminine charm in their bridal outfit pick Florals. Floral outfits are blended with rich and extravagant embellishment to make the ensemble more luxurious. If you are considering a destination wedding, there is nothing more charming than a floral printed lehenga or a lehenga sari or even a sari gown with floral designs. The best thing about this trend is that it not only conquered bridal ensemble, it is adorned in Mens wedding wear as well.
Double Dupatta
Gone are the old days where a bride has to struggle with carrying 2 heavy dupattas and trying to wrap it around your body and head. Best bridal designers have simplified it by bringing in double Dupatta trend where one would be a heavy Dupatta for your choli and the other one, which goes around your head, is a light one.
The colors you choose for the Duppatta must be coordinated with your outfit. When it comes to Indian bridal outfits, a lot of things goes on in terms of color. Either you can choose 2 dupattas of same color or different color that matches with your lehenga. The main Duppatta can be in georgette, solid silk or any other heavy material, but keep the second Duppatta sheer and lightweight with a thin border.
Cold should and off shoulder outfits
If you ask about the hottest and contemporary style of the season0 it has to Off-shoulder and cold shoulder outfits becoming a staple in wedding stores. Bold brides who want to try out something very new can opt for cold shoulder blouses for wedding. Off-shoulder and cold shoulder blouse can be paired with lehengas, saris, dhoti pants, sharara and what not. A proper fitting off-shoulder blouse allows you to show off your beautiful collarbone and shoulders and flaunt that gorgeous polki choker.
Sharara pants
To the uninitiated, sharara is a popular traditional pant originated from Pakistan. Sharara pants are fitted till knees and flared out beyond knees and look like a lehenga if worn with a long top. Paired with other long or short kurta, sharara gives a Mughal era feel to your bridal attire.
Velvet makes a comeback
Long back, velvet ruled bridal trousseau of Indian bride with its rich texture and heavy fall. Once again, velvet has made a grant comeback as the material is perfect for exquisite threadwork as Zardozi and zari embroidery becomes alive on the fabric. Flaunt a velvet lehenga with golden embroidery all over to flaunt that regal look.