For many people, deciding when to go on holiday is an easy time. They'll simply pick a destination and opt for a summer trip; after all, the Great British Summer Holiday Season demands that Brits must find climates more welcoming than their own during the hot months. The thing is, though, going on holiday in summer may not be the best idea. There are many reasons why you might want to opt for autumn, spring, or even winter break. Here are 10 great holiday destination ideas for any time of year.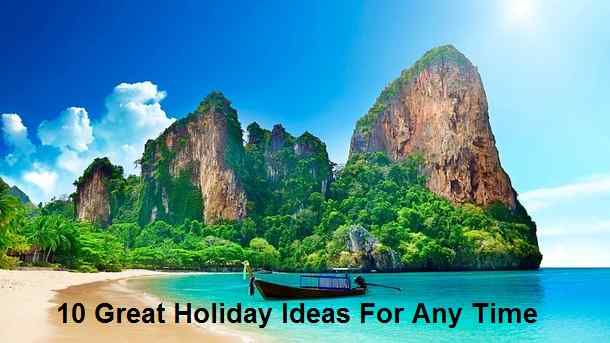 Switzerland
 If you haven't been skiing in the Swiss mountains during wintertime, then you haven't truly experienced a Swiss skiing holiday. Sites like matterhorn-diamonds.com offer great opportunities for you and yours to learn how to ski like pros, so there's no excuse even if you're a beginner. Throw in some truly picturesque and beautiful resort towns and restaurants and you're on to a serious winner. Trust us when we say winter is the time to go – the snow is powdery and the weather is just right for skiing.
Mexico
 There are many reasons why you might want to visit Mexico, but perhaps the principal one is that this is a misunderstood country. Mexico is a historic place packed with things to see and do. You'll want to explore the restaurants and tourist traps of the country, sure, but you should also look for out-of-the-way ruins and sites of historical interest that are slightly more off the beaten path. If you're smart with route planning, you can find a way through Mexico that feels unique and educational.
New York City, USA 
Looking for an evergreen holiday destination? Look no further than New York City. Visiting during the autumn and winter months will show you a completely different perspective on this beautiful city. It can get pretty cold in NYC, but there's plenty to do when things get chilly. From skating rinks to museums and major attractions like the Empire State Building, winter is the perfect time to go to the Big Apple. Summer is fine too, of course, so if you're more of a warm weather lover then fill your boots.
Egypt 
The nice thing about Egypt is that it remains temperate even in the winter months. If you're someone who hates the cold, then visiting beautiful spots like Sharm el Sheikh or the Siwa Oasis during November through February is an ideal option. It's hard to find somewhere with more history than Egypt; there are the Pyramids at Giza, of course, but there are many other historical sites you can visit if you've got an academic mind.
Dubrovnik, Croatia 
If you've got a few hours spare, the history of the Croatian city of Dubrovnik makes for fascinating reading. Of course, you could simply visit and find out for yourself. Shows like Game of Thrones – as well as movies like Star Wars – were filmed in this beautiful city, and when you see the ancient walls and gorgeous architecture, you'll understand why. It's not all history, though; there are also plenty of modern restaurants and bars to discover in Dubrovnik.
Spain 
It's an obvious choice, but sometimes it's worth remembering that the classics are classics for a good reason. If you're looking for a beach holiday, then Spain should absolutely be your go-to destination. There's something magical about the way the water shimmers off the coast of Granada or the trees sway in Majorca. There's also a whole hidden world in Spain that history buffs and academics should definitely go out of their way to discover.
Portugal
 Winter weather in Portugal is often described as "mild but unpredictable". While you might hit a few showers or a little snow, you'll often find temperatures as agreeable as 10 to 15 degrees Celsius when you go for a winter holiday here. There's something very comforting about a high-quality restaurant or bar in the winter, making Portugal's excellent range of eateries a must-visit for anyone who's looking to take a break during the winter months.
Italy 
Many places in Italy are absolutely breathtaking in autumn or winter. Take Sardinia for example. This lovely little area hosts a series of festivals called Autunno, which take place between September and December. You'll see streets lined with market stalls, picturesque walks through rolling Italian hills, and empty beaches that are yours for the taking. All this and the weather isn't even that bad, making a beach holiday a surprisingly appropriate way to spend autumn or winter in Italy.
Turkey 
With a temperate climate that's suitable for all seasons, a holiday in Turkey is the ideal way to see out the year. Coastal villages around Turkey offer excellent facilities for waterskiing, beach sunbathing, and surfing. The temperature is pretty scorching for so late in the year; even into September, the average temperature in Turkey is around 25 degrees Celsius. It's also one of the most historically rich and complex countries in the world.
Greece 
You owe it to yourself to visit this academic's paradise at least once in your life. Greece is, of course, the seat of ancient civilisation, but it's also a beautiful country to visit for more modern tastes. You won't be hurting for things to do in Greece, but you'll be pleased to know that even if you fancy just idling around outdoors for a while, the average January temperature is 12.5 degrees Celsius. You may still need a warmer coat than for summer, but this is a perfectly agreeable temperature for exploration.