A big congratulations on completing a decade of married life. Since you have been working on your relationship for so long, you would be knowing that it isn't a rosy picture all the time. By the time 10 years have passed, the honeymoon period is over and some problems tend to show up in the relationship. There are conflicts and as the relationship matures, the couple tends to forget the fun days of their initial married days and just moves along with their normal routine. These problems can scar the relationship and hence tackling them is essential.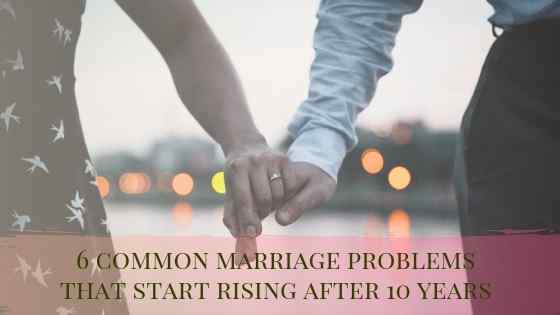 Let us have a look at some of the problems couples face after a decade long marriage and the strategies they can use to tackle these:
Bored life:
Once you are married for ten years the honeymoon period has already ended. Things won't be as magical as they used to be in early marriage years. It is unrealistic to keep such high expectations after being married for so long. If you are still feline boredom in your relation, then it tells that you have started taking your spouse for granted. Either you have started taking the relation casually or are unwilling to confront a problem that you are facing. The only solution here would be to face your problems and try different things outside your normal routine.
Less Intimacy:
Intimacy between a couple may die over the years due to reasons like mental health problems, stress issues, sleep problems, premature ejaculation, medication side effects, etc. It is very normal if the intimacy between you and your spouse has reduced over time. These dry spells can extend for longer periods and you can feel disconnected from your partner. You should discuss this issue with your partner explicitly and discuss their ideas related to the improvement of your sexual life. Things can get awkward in the beginning but take it slowly, define realistic expectations, and solve the problem.
Dissatisfaction with a partner:
Priorities change post marriage as you now have to take care of your partner as well. there could be times when you would have to do compromises and sacrifices that could directly impact your personal goals like career growth, traveling, etc. Some couples even sacrifice their dreams to build their family. But after 10 years, when things have stabilized in your marriage a resentment occurs in the couple, hence it is very important to help each other during such times.
Low tolerance:
Sacrifices and forgiveness are very common in the initial years of married life. You always give the benefit of the doubt to your partner in case something goes wrong in the household. Once the marriage matures, the patience level goes down and even the smallest of things start irritating either of you. It is overcome premature ejaculation If such a situation happens, then just keep one thing in mind that you both have to work as a team. Any negativity might lead to a possible marriage failure, hence stay together in tough situations.
Also Read: 3 Reasons Not Let Your Divorce Lawyer Be Your Therapist
Fewer Celebrations:
The honeymoon period of marriage sees a lot of small and big celebrations where even the smallest milestone is celebrated in a grand way. With time the celebrations days become less. Celebrations are an important part of a marital relationship and shouldn't be ignored. Plan get-together from time to time and invite your friends and family to make it special. You can even plan a romantic getaway to spice things up in your relation. Such surprises will rejuvenate the marriage.
Less fun and romance:
As time passes by, people tend to become more serious in life. Hence all the fun, goofiness, and romance reduces and the relationship becomes dull. The spark between the couples reduces and the marriage relationship comes on the brink of failing. Therefore, it is advised to take an effort to keep the spark alive. Spend some quality time with your partner, take an impromptu vacation, and show your partner that you still love her a lot.
It is but natural that the romance and caring in the marriage reduces over time. You will have to make a conscious effort to salvage your relationship, else everything will fall apart. So, talk to your partner about your feelings from time to time and make an honest effort to get rid of some of the common problems mentioned above.