You know how it goes when you're driving in your car, go to adjust the AC vent tab, and then the next thing you know, you hear the snap, and then you can't adjust your air vent anymore. Bummer right? Well, there's a way to fix them, and that's with car vent replacement clip parts. In this guide, we'll give you a little bit of info about how to replace your car vent clips and tell you where you can find them because they're not normally a standard part. And most of the time you don't need to replace the whole vent, just the tab or one of the vent clips.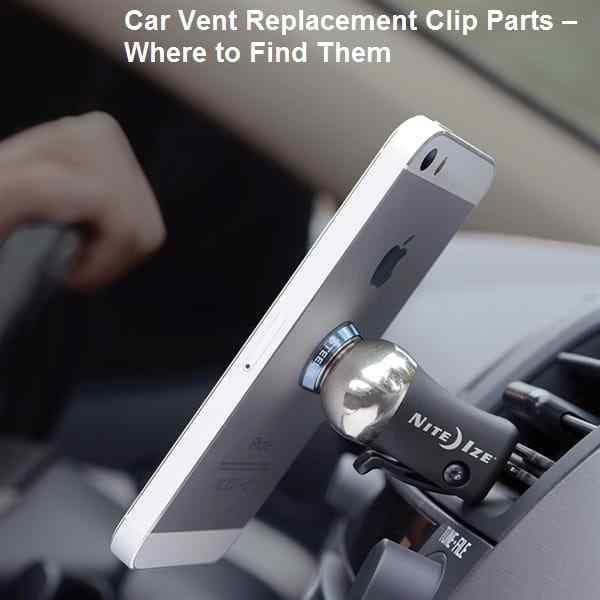 What Does a Vent Tab Do?
When it comes to replacing the vent tabs, often times you don't need to replace the entire vent. Some vehicles require you to replace the entire dash just to replace the air vents! With VENTTAB™s, you can replace just the clip so that you can control your air vent. If you only have one louver that's messed up, you can still control your vent with ease. Not only that, but they're actually really easy to install, and they can be made available for all makes and models of cars. The hardest part is just mainly finding them. Well, you can always try looking on eBay, but who wants to sit there and wait to see if your bids will win? When you want to find them and just simply order them as is, you need to be able to purchase them and have them quickly delivered to your door.
What Do I Need to Install Them?
Other car parts can require a ridiculous amount of tools, and if you had to take it to the dealership to have a vent clip installed, they'd probably give you some outrageous price, and have to use all sorts of specially designed tools in order to take the old clip or vent out, then replace it with a new one. With VENTTABS however, you don't need anything more than maybe a small hook tool and a pair of pliers (maybe).
An O-ring pick works perfectly, or even if you have a pocketknife that has a small hook on it (like a multi-tool for example) will work just as well. All you do is slide the back onto the vent tab, place the vent tab onto the horizontal louver, pull the back of the front back towards you while you push the back of the tab forward to snap it in place. If you need to remove or readjust it, simply use a flathead screwdriver to separate the top and bottom.
Conclusion: Where Do I Find Them?
Vent clip replacements can quickly be found at Vent Tabs website, and they offer numerous makes and models, as well as some vent clips that work for multiple makes and models of cars. All you have to do is shop by your vehicle, order the part and wait for the mailman to deliver it to your doorstep. If you need instructions, they even have instructional vehicles for certain makes and models on their website as well.
Click here for more: https://www.venttabs.com for vent clip replacement