Bridal Dresses:-
During the prospective year, we observed a little shift in the bridal dresses style. From traditional sarees, gowns, farshi Gharara to ghagra choli, every kind of dress won us over. Moreover, those flared cocktail gowns also left a mark. Most importantly, the work done was so unique that it impressed the masses. The intricate detailing of zardozi work, the gota embellishments, and handcrafted embroidery made our hearts skip a beat. What really made these bridal dresses stand out was the perfect harmony of colors, fabric, and traditional work. While talking about all this, how can we forget about the bridal dress collection of Sania Maskatiya, Nida Azwer, Fahad Hussayn, and Nomi Ansari that made headlines for all the good reasons? All in all, it seemed like this the year the traditional and contemporary designs created a perfect fusion. If that remained the case, we can expect more pretty apparels at the end of the year.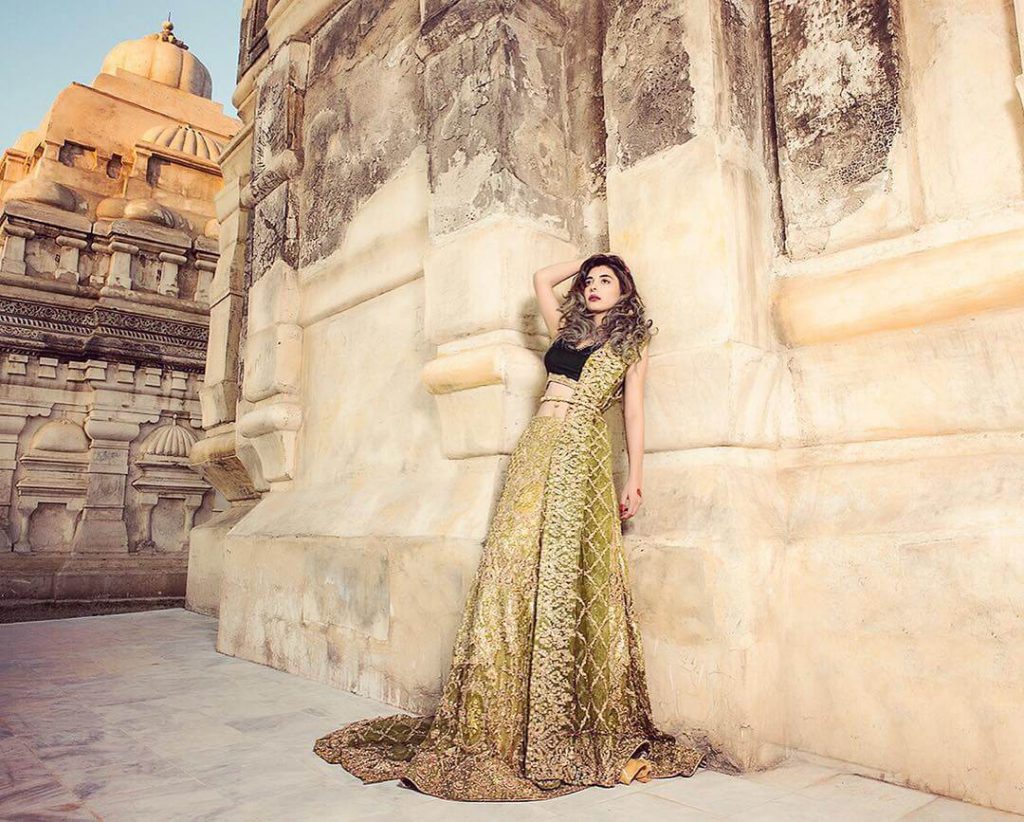 Bridal Beauty:-
2018 was the year of big trends and innovations in the bridal beauty and wellness. From eyeshadows, mascaras, lipstick to the skincare, and hair many useful products emerged in the market. There were also some noteworthy bridal trends that were too amazing to be ignored. These include thin lashes, metallic eyes, chiseled cheeks and shimmery lipsticks. The best part is that every bride applied these according to her preferences and absolutely nailed her own perfect look. The plethora of hairdos that became famous this year were loose curls, flower bun, side bun, braided bun, and a half up curls. Among many useful haircare tips, one caught our attention the most i.e. drying hair with cotton fabric to avoid friction. Micro-needling, micro blading, vampire facial, and dermal roller were some surgical procedures that broke the internet. Considering all this, it is evident that more and more innovatory beauty products and techniques are hitting the market. The best part is that there is something for just about everyone, and we hope to see more.
Bridal Jewelry:-
Bridal Jewelry in 2018 has come forward with a variety of different trends that has helped the brides choose their own look for the big day. From going minimal to wearing statement pieces, the brides experimented with their looks to give their best shot at the most important day of their lives. 2018 has seen the 70s style coming back with Satladas and chokers becoming the top choice for every bride. Head ornaments like maang tikka, matha patti and jhoomer got a big and bold look and is still popular among not only the bride but the guests as well. The golden attire also topped the charts with Kundan being a billboard hit. Engagement and wedding rings also came out of their traditional loophole with the brides going for designs with stones other than diamonds. emerald and sapphire are still leading the race with their striking colours and very healthy properties. Moreover, stacked rings too are gaining popularity with every ring representing a milestone of your life. Bridal nail art too is catching up with very pretty color combinations, French, metallic and nude nail manicures. Bridal jewelry is going through the introduction of a lot of trends that are still at their peak and we hope they continue to remain so.
Bridal Style, Fashion and Trends:-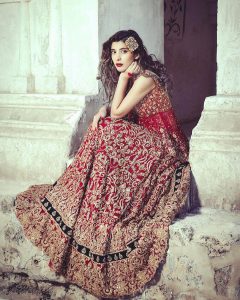 The weddings of 2018 gave us a large variety of trends both for the bride and the groom. Printed floral waistcoats were highly popular not just with the groom but the groomsmen as well. Talking about the groom, sherwanis too had their limelight moments with so many designs emerging up. From pastel hues, to monochromatic and adorning it with a royal-looking shawl, just takes the groom's fashion to next level. When talking about bridal style, bridal makeup took a light turn with minimalism winning the race. Chiseled cheeks, think lashes, shimmery lipstick, metallic eyes and thick eyebrows are just some of the trends still going popular. Some bizarre beauty trends also emerged up including led lashes, micro bladed eyebrows, and even garden and fishtail eyebrows. Brides took a special liking to white bridal dresses with so many of them adorning it on their nikaah. We saw some amazing celebrity weddings setting bridal style goals for the brides-to-be to follow, with day weddings and pastel hued lehenga cholis breathing life in to what was considered boring. Wedding trends of 2018 are still emerging and everyone is looking forward to see what's next in the picture.
Wedding Planning:-
Wedding planning may sound stressful but this phase will bring beautiful memories for you. When it comes to wedding planning, inspirations are endless however the year 2018 comes up with their own amazing décor trends that are hard to miss. Low key luxe personalized wedding affairs are very much "in". Intimate weddings provide a very soothing atmosphere for your loved ones. Décor is believed to be one the most important aspect of wedding planning and pastels are everyone's favorite wedding décor color scheme when used with a dark tone of hue. Most of the brides are going for floral hangings and chandeliers to enhance the ceiling décor. Fairy lights can act as a backdrop for your wedding photos. Origami fan flowers is another option that can be considered in 2018. There are so many inspirations available for wedding backdrop; from floral, tassel garlands, ribbons, bangles to kites, the DIY wedding backdrop inspirations are endless for every budget. Drapes are another way to lit up your décor with minimal efforts. Wedding signs and props are very much trending in 2018. If you don't want to follow usual décor rather want to play with it then, these are the latest wedding trend that we suggest you must follow.
Plan Your Trip:-
After the series of busy and tiring wedding festivities, a getaway serves as a relaxing haven for the couple. If you are one of those lucky ones to have a destination wedding, your getaway could be a different place in the same location. However, if you are having a wedding close to home, your honeymoon deserves the perfect amount of time and energy put into planning it. Do not forget to include the honeymoon into your overall wedding budget to avoid last minute hassles. Plan ahead and choose the destination both of you like.
Ceremony and Reception:-
Brides are going for personalized wedding ceremony and reception to celebrate their union as a couple. Couples are introducing their personal touches to their festive occasion to bring more intimate vibes to the overall ceremony. Daytime weddings are getting popular these days. Many couples prefer to have a daytime ceremony so that they can easily be done with the ceremony as early as possible. By doing so, they can enjoy the rest of the day with their loved ones. You can see the maximum use of natural greenery for daytime wedding decor. If you are looking for ways to make your wedding a memorable personalized affair, then juice bar can be a new unique addition to your wedding and its trending. It is the best way to introduce your personal flavor to your wedding. Besides brides are also opting for unique customized wedding favor ideas. Bite sized-desserts, candles, plant sapling, makeup items (as bridal shower wedding favors)-to name a few are very much trending this year. These days' couples want to preserve every memory of their big day, Instagram wedding hashtags are put in place to go through all the wedding pictures. The idea of a conventional wedding album is long gone. Wedding photography has taken up the next level. Another popular trend that is being followed for ceremony and reception is a planned wedding shoot.