Life gets overwhelming sometimes. When you're under a lot of pressure and feel like your back is against the wall, it's important to take a break to destress.
A bit of art therapy is just what you need.
It doesn't matter how skilled of an artist you are. The point of art therapy is just to make something. Art lowers your stress levels by giving you something new to focus on, putting you in a state of mind like meditation, and leaves you with something you made with your own two hands in the end.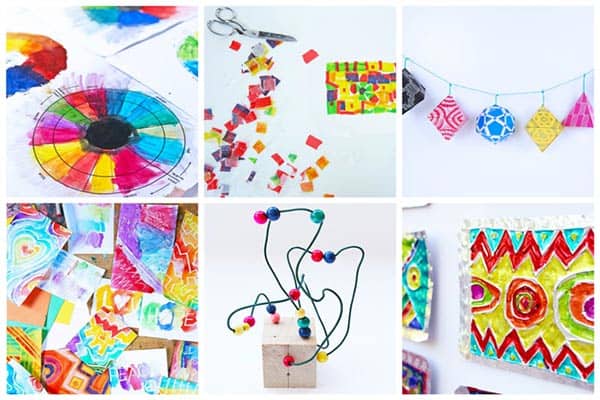 Here are 9 of the best arts and crafts for you to do when you're feeling stressed out to bring you a sense of peace.
1. Color it Out
Adult coloring books have taken the world by storm in the last few years and not by accident. The beautiful mandala patterns give you plenty of freedom to create something unique and lovely without actually having to draw anything.
Sit down for an hour or so and let yourself escape into the colors and patterns and see how much it calms you.
2. Pick up Some Crochet Needles
Crochet is a great use of time and energy when you're feeling overwhelmed by life.
Take whatever is causing your stress and put it into the knots of whatever you're making. You'll end up focusing so much on your task that your frustration will just melt away.
And you might end up with a nice scarf as well!
3. Craft with Clay
Clay is the perfect medium for expressing your creativity and working out your troubles. It's just like a stress ball that you can squeeze and twist and model into anything you imagine.
Let your clay masterpiece dry so you can display it, or create something and then pull it apart again, if that makes you feel better.
4. Do a Doodle
Art doesn't have to be big, elaborate pieces that take weeks to complete. Sometimes all you need is a little distraction to take you away from your stresses.
Keep a journal for quick doodles whenever you have the time. Doodle things that make you happy, even if they only take a few minutes to finish.
5. Create a Collage
For this practice, you'll need something to destroy so that you can create a totally new piece of art. It doesn't matter what you choose — magazines, art prints, book pages, fabric, or your own piece of art.
Once you have all your scraps cut up, start gluing them onto canvas to make a new picture that's entirely unique from what they were before.
6. Make Your Own Bath Bombs
Making something you can use gives you a great sense of accomplishment and ensures you feel like you're using your time wisely. When it comes to lowering stress, you can't go wrong with bath bombs.
Once you finish creating your bath bombs, you can take a nice relaxing bath to make yourself feel even better.
7. Paint your Feelings
Painting anything allows you time to focus on something other than what's stressing you out. This exercise adds an extra layer to the healing by promoting mindfulness and putting you in touch with your emotions.
Sit down and take account of how you feel. Use paint to express those feelings on paper for a personal piece of art that helps you work things out.
8. Pick up Scrapbooking
Scrapbooking is perfect for people that love preserving memories and decorating things.
Find some of your favorite pictures from fun times in your past. Reminisce on the good times and enjoy that happy feeling while you create special pages to keep forever.
9. Sew a Weighted Blanket
Finally, an activity for anyone that loves the work with a needle and thread. Sewing a weighted blanket will probably take you a little more time than most of the options on this list, but it's well worth the effort.
Weighted blankets help decrease symptoms of stress and anxiety by making you feel safe and secure when you're under them. And you can feel even better knowing you made it with your own two hands.
In Conclusion
As you can see, arts and crafts of all kinds are amazing for letting your stress out.
Whether you're overwhelmed by work, feeling beaten down by school, or dealing with family problems, art can help you process those emotions and turn them into something amazing.
Don't take my word for it — try out a few of these 9 arts and crafts when you're stressed out and see what a difference the right one can make!