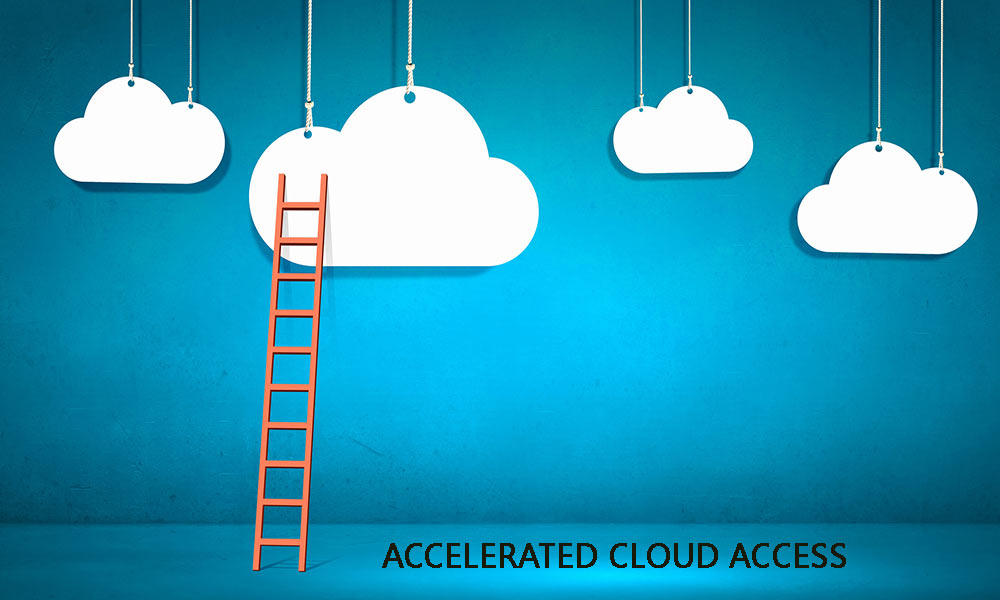 The digital world of the present era consists of a wide range of hybrid networks and cloud-based business applications. This gives rise to new concerns and challenges related to the unpredictable functioning of cloud workloads. This affects the business productivity of the enterprises. The problem arises as data takes longer to get to and from far-away locations. Hence, cloud workload performance gets hampered by latency. This is where Cloud Acceleration can be an excellent solution.
Internet impacts business operations
Every major organization across the world uses the internet at its core. It is the top-notch network performance that can make or break a company in the present-day world. In a recent study by SanDisk, it has been found that company employees waste around a week every year because of slow networks. This proves that the internet seriously impacts the effective functioning of a business.
Intelligent routing and accelerated cloud access are being adopted at a rapid pace across the globe. Global networking companies are offering cloud acceleration services and constantly monitoring for network congestion, broken links, and low quality or limited networks.
What is cloud acceleration?
It is a type of service that enables publishers, content producers, and other enterprises to deliver content to end-users rapidly. A cloud-managed service platform offers delivery through a cloud accelerator. Cloud acceleration demands a network infrastructure particularly designed so that high-speed transfer of data and routing can take place.
 Cloud acceleration can be acquired when the internet delivery network is optimized for lower latency and increased performance. The service of a cloud acceleration service is similar to CDN (Content Delivery Network). But it is designed particularly for streaming and transferring dynamic content or data.
How does it function?
The internet is required for the day-to-day functioning of the business in the current era, but there is no assurance of its availability. Thanks to intelligent routing and accelerated cloud access that internet delivery networks can be fine-tuned, enhancing the overall functioning, and rendering cost management across a wide range of business sectors.
Standard internet connectivity hub
To operate the standard internet connectivity hub, a router, a few internet transits, and internet exchange point connectivity are needed. The BGP (border gateway protocol) automatically chooses a shorter geographical route for traffic without considering other metrics.
Cloud accelerator or intelligent routing
When an intelligent routing is considered, it can undertake different approaches and change choices made by border gateway protocol. In addition, when cloud acceleration hubs are considered for networks, every public internet IP prefix is examined carefully. The cloud-accelerated hubs assess the best possible route for transferring data and information.
Example for easy explanation
In layman's terms, a simple example can explain the difference between standard or basic internet and intelligent routing hubs. It can be compared to a static map and the presence of GPS in one's car. GPS offers detailed traffic information pointing out every possible roadblock en-route, saving hours to reach the destination. Similarly, when cloud acceleration is implemented, the data and information can reach the end-user, or end-consumers in a faster, and more efficient manner. This optimizes the overall business productivity of enterprises around the world.
Optimized private network
The more distance a data packer covers, there is more possibility of losing data and creating security loopholes. When data passes across the internet connectivity network, the path cannot be predicted and the outcomes are also not possible to anticipate. Thanks to a cloud acceleration service platform that renders a committed private core network linking closely to the points where services are offered.
When business users around the globe make use of distributed POPs, a cloud accelerator can offer a more secure and predictable transaction of data and content on a cloud-based application. Using cloud acceleration assures optimized performance and top-notch security for data transactions, which is better than the business's original private network. The business grows and becomes more efficient with fewer challenges along the way with the use of cloud accelerators.
Expectations from a cloud accelerator
The benefits of cloud acceleration on a private network render several benefits. The increasing popularity and practical uses are encouraging cloud-based businesses around the world to incorporate a cloud accelerator.
They are known to fine-tune business by enhancing performances, rendering cost management, and offering predictable availability. The predictable outcome of improved connectivity between data centers, private clouds, and remote offices are some of the highlighting aspects of cloud acceleration.
Customer services and top performance connections
To render the best customer service experience, the service provider needs to rely on a good internet connection. Often the performances of a business rely on the functioning of the internet connectivity. The use of cloud acceleration in such service sectors can prove to be a blessing. Using the cloud-accelerated private distributed network aids in speeding up connecting to customers and thereby enhancing performance.
SaaS applications and top-notch connections
Business enterprises that use Saas applications are required to optimize their performances when connecting to Saas applications around the world. Security maintenance is an important aspect of cloud-based service-related businesses. A private distributed network with cloud acceleration is exactly what SaaS application enterprises require as there is an improvement in the performance of the business.
Cost-saving and network design flexibility
One of the best features of cloud acceleration is that it can be incorporated across myriad networks. The added value plays a key role with the SD-WAN sector. Several companies across the globe are switching to SD-WAN and seeking the benefits of flexibility in network designing and as cost-saving means.
Conclusion
With the introduction of cloud acceleration and intelligent routing technology, businesses will witness an increase in user productivity. The companies will experience a reduction in technical support. Furthermore, there will be top-notch connectivity to different service applications, data centers, and offices. Faster data downloading and uploading is possible along with unhindered cloud application access. This leads to enhanced employee efficiency and better online experiences by customers. Moreover, the work won't be halted because of the internet connectivity speeds and technical glitches.
Follow – https://sggreek.com for More Updates