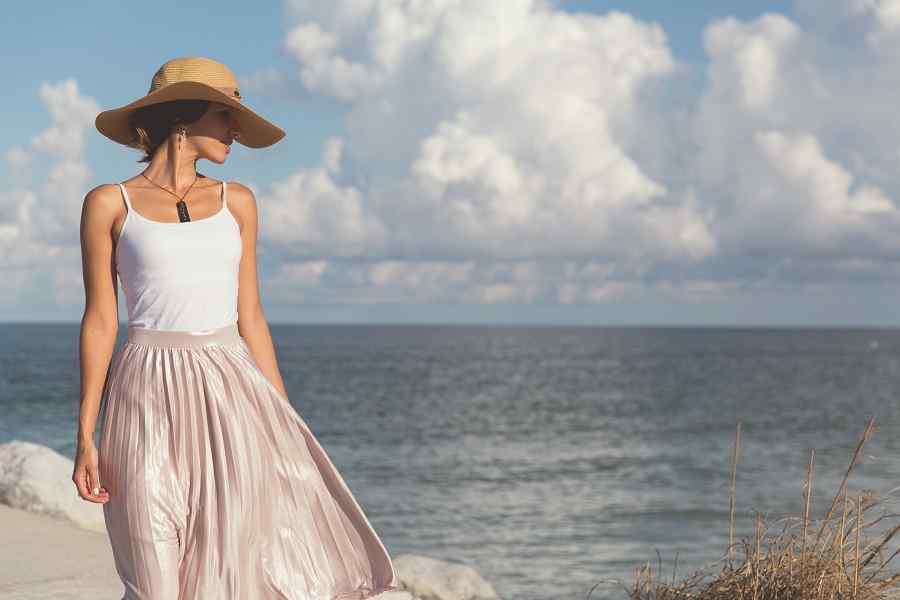 Boho fashion is a trend that will never go out of style. The idea behind it represents a lifestyle of freedom and to go against the norm. The style embraces many different cultures, with things such as flowing fabrics, Moroccan kaftans, or Ukrainian inspired embroidered blouses. These and other staples represent a free-spirited attitude. Usual colors seen in a boho-chic inspired wardrobe are earthy tones such as greens and browns. A good way to establish a boho look is by shopping at thrift stores.
Now that you have an idea of what the boho style is, here are five must-haves you need in your wardrobe.
1. Maxi Dress
When you think "boho-chic", the first thing to pop into your mind is a maxi dress. These easy, flowy dresses are essential to anyone's boho wardrobe. It covers you from head to toe and feels like a dream to wear. It's especially convenient if you're feeling lazy that day.
Throw on a maxi dress, pair it with some sandals, and a piece of chunky jewelry, and you are the perfect picture of boho-chic. You can play with patterns or go with a solid color. And if you're on the shorter side, don't worry! There are petite maxi dresses out there that won't swallow you whole or make you feel like a small child.
2. Crop Top
A crop top pairs well with anything flowy because it flatters the top half while accentuating the hips. You can try it with a maxi skirt, or a pair of flowy harem pants. It doesn't matter what your body size is, anyone can rock a crop top. Give it a try, you might find a new staple in your wardrobe!
If that's not for you, or the weather isn't right for crop tops, get some tunic tops. They're great for layering and hug your body. You can wear them by themselves or with a vest. Embroidered tops are also important to a boho wardrobe.
3. Sandals
The next best thing to being barefoot is wearing sandals. These go great with any flowy bottom such as a maxi skirt or pants, and especially a maxi dress. They can make any outfit look well put together, even when it's not. They come in a variety of styles and colors, ranging from chunky to thin, ankle or even thigh-high. Have fun and play around with all your options! If it's not the season for sandals, then try out ankle boots instead. There are simple styles and fun funky styles with fringe and accents.
4. Accessories
You can really cultivate an eclectic boho style with the right accessories. Generally, the boho fashion and lifestyle is about rejecting materialism, so it's best to stay away from anything that's too flashy or expensive. If you do enjoy something sparkly, browse the jewelry section at thrift stores instead of buying something new. Chunky earth tone bracelets or crochet handbags complement any boho-chic inspired look.
5. Fringe
Some people might get rock and roll vibes from fringe leather jackets, but it's more synonymous with the boho hippie style. But don't stop at just the fringe leather jacket—add it wherever you can. Try on a fringe leather boot or a fringe purse. There are eco-friendly options out there if you'd prefer not to wear leather or animal products.
The bohemian lifestyle is something that we all crave in a way—the idea to live a carefree life. One where you're not constantly on edge because of life's everyday stressors. The ultimate piece needed in a boho wardrobe is CBD products. These amazing cannabis buds can give you the calming effects of marijuana and may help reduce everyday pains and anxiety. Plain Jaine offers the highest quality of hemp flower sourced from small American farms. So not only will you look boho-chic, you'll be living it.