Before developing any money-making mobile app it's critical to think carefully about its monetization model.
Simply put, it is the concept that an application that you create for your business can be used as a way to reap financial rewards. Without a monetization strategy, there are limits to what you can get back from an app. Yes, your clients might be able to engage with it and benefit, but it serves you better if you know that you have money coming in.
The app serves as a form of passive income and gets you a return on your investment. Therefore, as you try to answer the question of "what is app monetization," part of what you should be asking is what your long-term goals are as it relates to your company.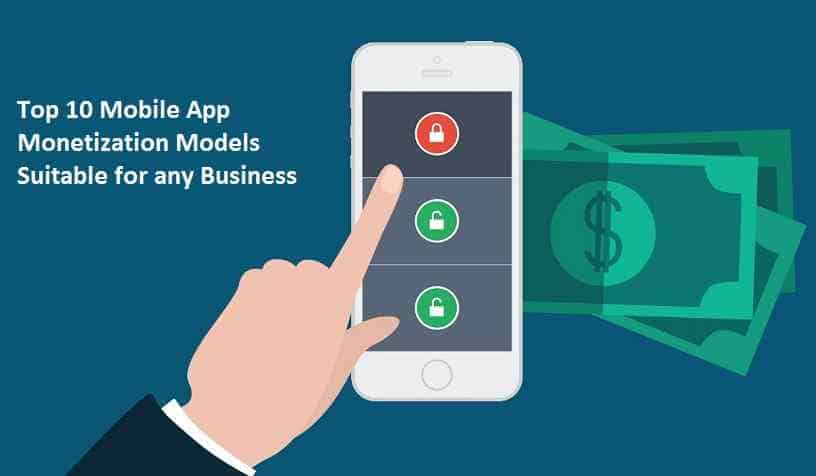 Your mobile monetization strategy is going to differ from your mobile app business strategy. The first is a way for your app to be a moneymaker for you. The second is a way of planning out your app so that customers find it to be the most engaging. You need to have both of these strategies in place for your business to truly benefit from applications.
Hence, let's dig deeper into a discussion of the most working mobile app business monetization examples. But before starting, notice, though, that the customer paying directly for the app downloading from the app store is not on the list. While that is a viable option for you, some customers are reluctant to do it.
To prove that Just compare the statistics under Statista: 
Total Worldwide mobile app revenues for 2018 was $365B
Total Worldwide mobile app store revenues for 2018 was $36.B
so app store revenue from app downloads results only in 10% of total app revenue
That's fine, though. There are several other options for how to monetize an app that doesn't involve the client paying for it upfront. The app development cost will seem negligible when you look at the potential benefits. So let's get started:
In-App Purchases
You will most often see this product monetization strategy with mobile gaming apps. There are four types of mobile game monetization. These are Consumable, Non-Consumable, Auto-Renewable Subscriptions, and Non-Renewing Subscriptions.
Consumable covers the in-app purchases of various consumable items in games that app users need to replenish as they play.
Non-consumable types of in-app purchases are things that app users need to buy a single time to expand the set of features the app offers.
With Auto-Renewable in-app purchases, app users can pay for specific services or periodically updated app content.
Non-Renewing Subscription implies paying for a subscription-only once and then getting access to specific app content for a fixed time. These possible revenue streams for an app let you get creative as you think about what your clients value most.
In-App Advertising
This option demonstrates the versatility of app monetization strategies. The wide variety of mobile ad formats allow apps to accommodate the user experience in ways that aren't disruptive for the user.
With the native ad model, it becomes easier to scale an audience, because there is no cost to download.
In-app advertising also offers advanced targeting options to advertisers, which means they are willing to pay to reach the most desirable segments of the population. Of the various money-making apps, this is the one that is easiest for you to attract a wide range of entrepreneurs.
Affiliate Marketing  and Lead Generation
This is a model where an app promotes the products of other entities or businesses. You have a chance to earn a commission in return for proposing 3rd party service or product. This model works quite well and is capable of bringing in high revenue when the offered product is truly useful.  Particularly if you have a shopping app, you can start to sell some affiliate products that are related to your business and get revenue when users buy them from your platform.
Lead generation involves catching the attention of potential clients so that you can feature their products or services in your app at a later date. In this model, you can also make a profit through the app by selling leads to other interested parties. Of the various apps that make you money, this is one of the most straightforward.
The Freemium Revenue Model
This is another popular app monetization model that helps to create revenue. What you do is offer users a functional, basic version of the app that costs them nothing.  There are three ways of approaching this sort of app monetization.
The first is the Storage-Based freemium model. This is where you offer a free version of your service or product that provides the unique storage capacity that users will appreciate.
The Feature-Based freemium model is where you offer a free version of your service or product that is provided to clients. However, its functionality is limited to unpaid users. Once the client pays, they unlock the app's full range of features. Skype and Buffer are two examples of this.
The Time-Based freemium is the third model. You offer customers a free version of your service or product, but only for a limited amount of time. The free trial offers from Shopify and Audible are examples of this concept.
The E-Commerce Model
This is something that you can consider even if your startup doesn't operate as an e-shop. It is a monetization model that works for many business startups that sell promotional materials like t-shirts on their websites. There are many ways of customizing the e-commerce business model for apps depending on your company's priorities and goals.
Subscription/Software-as-a-Service (SAAS) or Paywalls
This mobile monetization model is an option worth considering if you have a startup. Subscriptions allow your company to lure users into a long-term payment approach, thereby increasing their customers' lifetime value to you as clients.
There are two common options with SAAS-based revenue.
PAYG, or a Pay-as-You-Go plan, when you charge your customers based on their usage rate. The model is based on the number of services a client uses. However, it is often challenging to maintain a steady revenue stream this way.
Tiered pricing when you can split your services into different levels according to the usage amounts and features that the clients require. Tiered pricing is the most popular model among Software-as-a-Service companies. This is one of the money-making apps for which a particular niche seems most willing to pay.
The Sponsorship Monetization Model
Say that your app has a broad user base and a high level of engagement. If that's the case, you might think about what other businesses could benefit from offering its products or services to your audience through your app. Conversely, you can consider how it would benefit your users to have access to a different company's goods and services. Essentially, by using this model, you secure a single advertising partner that sees and appreciates your app revenue generation potential.
Selling APIs or Licensing Your Code
This is one of the more recent mobile app monetization strategies.  If you develop your own code from the ground up and it proves to be successful, other brands may approach you and offer to re-skin your app, either for their purposes or yours. By licensing your code to other developers, you can make money without disrupting your users' experiences.
For instance, Google has a history of enabling developers around the globe to integrate their apps with powerful mapping functionality through the Google Maps APIs. Similarly, Uber allows developers to integrate their apps with Uber functionality. There are several applications built on the Uber API that have found success, including Moleskine, Slack, Foursquare, and Teleport. This stands out as perhaps the best way to monetize Android app features.
SMS and Email Marketing
These two marketing approaches have been around for decades. Email and SMS are the most popular ways of interacting with users. To achieve the best results, you should combine these approaches with other types of marketing.
Read More: How Email Marketing Helps Your Business Flourish?
If you're in search of an effective, low-cost tool to boost your product, opt for SMS marketing. An SMS reaches the addressee quickly and is usually read right away. With email, you can't always expect that same speed. The app publishers retain control, and the whole endeavor is highly customizable. You can blacklist certain types of advertisers, choose a set floor price, and more. Real money-making apps are the ones where you can control every detail, so this model is well worth considering.
App Data Monetization
This app monetization model is one that users won't notice. Data is one more business asset of which you can take advantage. Consider monetizing this data by selling it to an interested party. Researchers, institutes, marketers, and product owners are your potential clients. They all need data to develop and optimize their goods and services.
It's a controversial mobile app revenue strategy but provided it's done wisely, you'll get a reliable source of income. The main rule is to monetize only basic, non-personal data. That might be something like the device category being used by the customer, the device makes and model, IP address, display size, mobile connection provider, network type, etc. Besides, it is worth to be aware of issues might be with users' personal privacy and safety.
In any of these cases where you plan on monetizing, the key to its success is primary not a monetization idea, but reliable and developed qualitatively the app that solves your users' needs. It's critical when implementing your monetization model don't forget to ensure that your exceptional handy UX and functions that resolve your users' needs within your app. Only after that, you can rely on the success of your monetization plan.