As someone who lives with their partner in a studio designed for one – as well as working from that space! – I've grown accustomed to finding the best way to make furniture work. We all want to make the most of our home without having to live in clutter – So here are 6 tips from someone who breathes small space decor.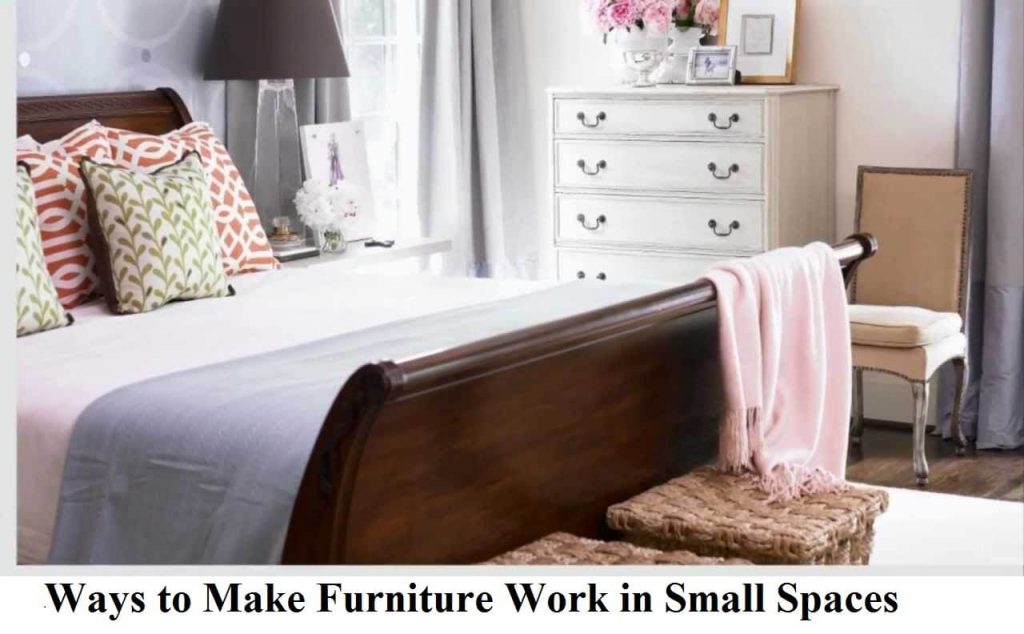 Is it feasible?
This is an obvious one. Although you may LOVE that 3 seater sofa or queen sized bed frame, it's just not going to be a reality if you're working with 150 sq ft or less. Take that tape measure and get a good idea of the space you're working with so you go in with good expectations of what is and isn't feasible when furniture shopping.
Do you REALLY need it?
This has been the biggest hurdle in making my small space furniture work. I am one for making the ideal home, yet most of my ideas are in much larger spaces – so I usually have to put a pin in those thoughts. One way to make sure you're getting the most out of your space is to ask yourself if you really need that item? What value or function does it add to your home? Could something more practical take its place?
I tell myself that it'll be easy enough to squeeze around that vanity table I'll have to shoehorn in beside my bed, but I know that I'm lying to myself and get sick of having to bend my body unrealistically by the week's end. Not to mention days upon days of stubbed toes. So do you really need it? And more importantly, would something else work better?
Think outside the box
Not only is this fun, but it also follows nicely from the point of something else working better. Since living in a small space my minds' eye sees furniture in totally different ways than it was intended. Just because that bedside table is technically in the bedroom department, there's nothing stopping you from turning it into your new bookshelf if it's a perfect size? If it works for you – then its original purpose is irrelevant!
Favour quality over quantity
I used to occupy the master bedroom in an old Victorian terrace house, which meant I had space galore. This also meant I could buy pretty much any furniture I liked, which if upon breaking could easily be replaced with another cheaper alternative. As a student, I'd do it all the time. However, with small space furniture if something breaks it is beyond difficult to find something to easily replace it.
Buying quality items from the get-go means you'll have items which last, and you won't be left exasperated when that perfectly tessellated item is no longer part of your life. To find top furniture and steer clear of the not so top – check out furniture company reviews to find businesses that'll offer you those sought-after pieces.
5.  Unused space
Take a look around your small space, are there any areas which are totally unused yet could be utilized? I weep at the lack of shelving on my walls which would save a ton of floor space (of which I have very little) – but with a rented studio it's a grievance I have to put to one side.
If you're able to DIY away, you might be able to put shelving in spaces behind doors (your new skinny shoe rack), or hooks on the inside of cupboard doors for items taking up precious drawer space. This gives you the opportunity to free up space and declutter surfaces removing eyesores.
6.  Practice Tetris
Finally, when shopping or using existing furniture in your small space, draw a plan in which those items will occupy the best space, leaving free room flow. Basically Tetris it. Look at your items, as well as get hands-on by moving things about and see how snuggly you can form your living space whilst leaving it functional. Just because you've had the dining table in that position for the last 8 years, what's stopping you from finding it a new home? Same goes for all your furniture!
By following the 6 tips or a combination of the above you'll soon be making the most of your small living space, and become a pro at squeezing furniture into small spaces!