It is useless to constantly repeat the same actions in the battle against hatred in the world. If some methods do not work, then you need to find other, more effective ones. The same applies to the fight against anti-Semitism – a phenomenon that has recently become more and more frequent. In this case, hatred is directed against the Jewish population. It is really shocking that anti-Semitism takes on new forms and becomes more and more common in developed countries like the United Kingdom, and in other EU countries. About 770 attacks on Jews were committed in the UK in just half a year, and that is a scary fact. And this statistic is only getting worse. The number of violent attacks against the Jewish population has increased as well.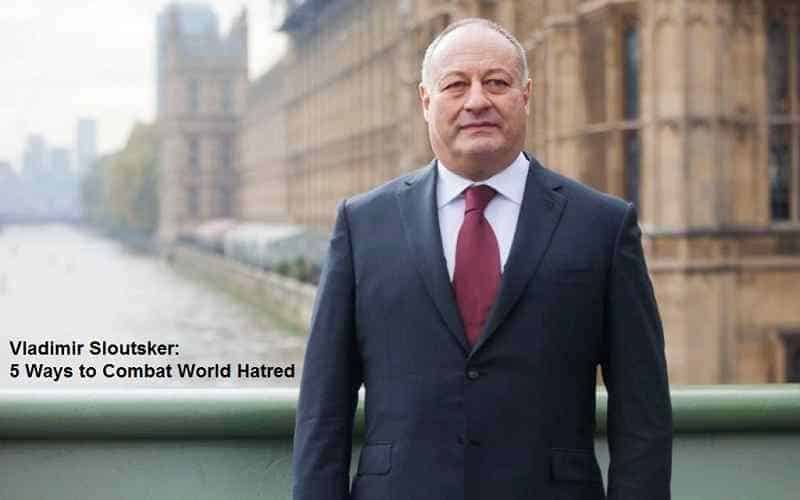 It is necessary to fight the phenomenon of anti-Semitism effectively, – emphasizes Mr. Vladimir Sloutsker, a well-known public figure, politician, and head of the Israeli-Jewish Congress. In the modern world, the fight against hatred is limited to reducing the number of attacks. But such a tactic did not give any results. According to Vladimir Sloutsker, it is necessary to use any methods possible and unite all forces in order to eradicate hatred both among the young people and among the older strata of society.
But during this fight, we need to act not aggressively, but vice versa: actively, intelligently and as creatively and systemically as possible. The politician expressed his point of view on how to solve the existing problem. And it is necessary to fight not only with anti-Semitism but also with any manifestations of hatred towards other national minorities.
A well-thought approach to eradicating hatred among different strata of society is vital. But first of all, it is necessary to start with education. Proper education gives the base of good and bad in the heads of the younger generation. At the same time, focusing only on historical facts, for example, such as the Holocaust, is not enough. Explaining what anti-Semitism is and what horrifying consequences it can cause is not enough too.
It is important to show what contribution the Jewish people made to history, science and culture. At the same time, it is important to explain to the youth in an easy way how the attacks on the civilian population can end. Young people need to know how to act, and how to report hatred acts to the competent authorities.
It is also important to understand that not only the Jewish population is suffering from hatred, but also other ethnic minorities, as well as parts of society. That is why it is essential to combine efforts and fight together against various forms of hate.
Social media are one of the most effective channels that can defeat hatred. We cannot neglect its role in the modern life of people. Now all manifestations of hatred are spreading through a variety of channels on the Internet, especially through social networks. Vladimir Sloutsker emphasizes that first of all, we need to eradicate the hatred that is spread on social networks. At the same time, it is necessary to understand that social networks are an effective tool in the fight against anti-Semitism and other negative phenomena.
Social media can be used to inform users about the personal stories of national minorities' representatives. We can also use it to share information that will eradicate violence. Large technology companies that are leaders in their niche should join such a campaign because they have a significant influence among the people.
There is another important aspect: it is necessary to clearly define and adopt the definition of the anti-Semitism concept. The Congress, led by Vladimir Sloutsker, has already developed a universal meaning of this phenomenon. For instance, Britain has already successfully adopted the explanation of anti-Semitism, and now it is the turn of other European countries. After all, it is impossible to get rid of the phenomenon that does not even have a name. Therefore, the EU countries need to follow the positive example of the UK as quickly as possible.
It is vital to eliminate anti-Semitism and other clear manifestations of hatred directed against any national minorities in all possible ways within the law. Besides, it is necessary to direct all forces to information propaganda, which over time will change the perception of certain parts of the population, national minorities and their contribution to history and culture. A long-term existence of the EU is possible if openness and tolerance can overcome violence and hatred.