When we think of redecorating a living space, we usually instantly think that it will take a lot of time and a lot of money. That doesn't always need to be the case! If you don't have any plans for the upcoming weekend, maybe you can use the time to transform your bedroom from "meh" to "wow!".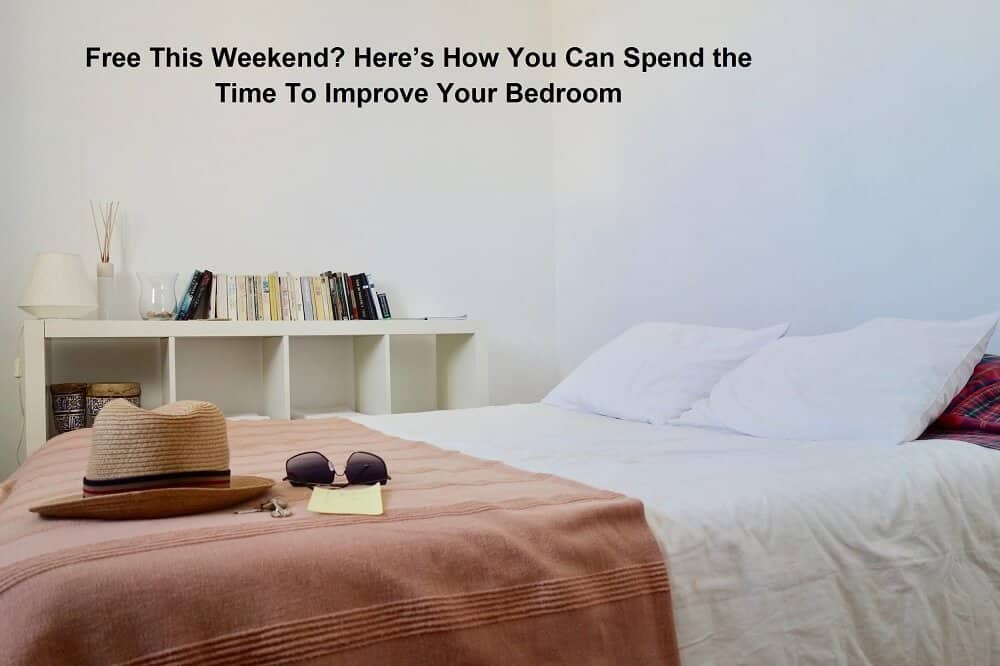 When your bedroom has been the same for a long time, it may no longer give you that same satisfaction when you decide to call it a night. But by making a few simple changes you can turn the space you normally use it only for sleeping into your new favorite place in the house!
Add a Wallpaper
Wallpaper is really easy to put up and it doesn't take any special skills to do it. Plus, modern and funky wallpaper nowadays is very cheap – you can get some great designs for as little as $10 and it shouldn't take you long to stick it to the wall.
Covering the entire room in wallpaper might be a bit difficult since if you decide to go with a pattern, then it might interfere with the rest of the design in the room. Instead, grab a few sheets of wallpaper and stick them to the wall that the bed is positioned against. This will instantly change the entire look of the room without much effort.
Speaking of wallpaper…
Use Wallpaper on Your Furniture
Livening up your furniture can be done quickly and easily by using wallpaper. When you are getting wallpaper for your wall, get one extra sheet for your furniture. You can use it on the side of the drawers – it will only be visible once you slide the drawer open it is will be a nice little surprise decoration.
Hide The Cords
Look around your bedroom and you will understand that what we are saying is true – cords laying everywhere make the entire bedroom look messy. In fact, this doesn't go only for your bedroom but also for every other room in your home. Nowadays, we clearly have a lot of devices that use cords but leaving them exposed can really spoil all of the hard work that you've put into decorating your bedroom.
Try to reposition the electrical items in a way that you can hide the cords behind the furniture. If this isn't possible, then go to the next best thing – the yarn trick.
Using yarn to wrap your cords is the perfect inexpensive way of improving the look of your bedroom. Tie a knot around the beginning of the cord and use a hot glue gun to stick the beginning of the yarn. Simply wrap up the entire cord in yarn and use the hot glue gun to secure the end of the yarn to the cord. As simple as that!
Get a New Bedding Set
When was the last time you replaced your bedding? Old bedding can become uncomfortable to sleep on since the fabric gradually gets worn out. This is especially true if your bedding is not a luxury one and it is made out of cheap fabric.
The ultimate way to refresh your room is simply to get new bedding. But if you want your bedding to really serve its purpose, then you need to invest a bit of money is a high-quality set that will not only look good but it will also last for a long time. The item to look for is Egyptian cotton bedding – it is made out of high-quality fabric and you can feel real pleasure when you snuggle up at the end of a long day.
Change the Lighting
The obvious way to go here is to get a new lampshade or a chandelier. However, if that sounds like a costly thing to you, then you can simply experiment with different superstore string lights.
String lights can bring a sense of intimacy to the bedroom, so why not use them. You can attach some string lights to your curtains, tactically place them on the nightstands or wrap them around the mirror frame.
String lights offer endless possibilities so evaluate your room and find the best placement for them. you can choose the perfect Nightstand Light for you and your home.
Use the Top of Your Dresser
The top of the dresser is usually an overlooked space that can hold up so many decorative items. If you are not using this space then now it's the time to do that. Look around your home and find some interesting items that you never thought to use as decorations. The good thing is that vintage is a hot trend right now so if you have a box of things you just left in the basement years ago, it is time to do some digging.
You can use virtually everything as a decorative item if you can fit it into your vision for your bedroom – frame old postcards of the places you have visited, use memorabilia items or simply stack up some books and the dresser will instantly look better and take the focus off the actual drawers.
Additionally, hang some wall art behind the decorative items. If you don't have anything you can hang, look online for cheap wall posters or maybe even do a trip to the local thrift shop.
Changing the entire look of your bedroom doesn't need to be a long and exhausting process. Doing an entire makeover can take you as little as one day – just bring in some enthusiasm, put your favorite music on and have fun!