Jewelry customization and inlay, do you really know
Not everyone understands what is the difference between "Jewelry customization" and "inlay"
Girls, there should be a lot of ideas about the jewelry you want to wear. This is the first essential element if you want to do "customization", and the idea should clear. It sounds simple if you have an idea. Everyone feels that they have a lot of ideas. In fact, the implicit requirement is that the customizer must have a certain understanding of the customized category. However, the requirement for understanding jewelry is relatively high. Not everyone is immersed in the jewellery common sense in daily life, but at the most basic, the customizer needs know some knowledge about the material of the jewelry, the style and style that they like or suits. Therefore, ideas are the primary elements that a customizer owe and must be provided to a custom workshop, and the customizer must have good communication skills to express his or her own ideas.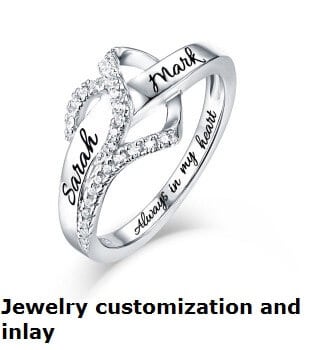 The second essential element is that the customizer has enough knowledge and thinking about himself and correct and objective evaluation. Simply, it is education and taste. The tool of jewellery can be used well. To make custom jewellery, what is needed is an inward self-interested dialogue, and finally, express itself in an external form. That is the embodiment of taste and education. Until here, I think that there are basically a lot of people who think they can do "jewelry customization", but they can't do it at all. The success of every jewelry custom designer is often matched by a customizer.
The third essential element is trust. Here I might want to say a little more about custom designers. Customization is a big project. I am also doing customization on my own. Why do I always say that my custom object is a friend, because I have to treat him as a friend, and he also treats me as a friend? Then customizing becomes the third element to be done. Custom jewellery is a work of art, and there must be emotional connotations behind the artwork. As a designer, I have to understand what kind of emotions you want to express, and I can help you to use the language of jewelry to complete this work. So for real customization, the designer needs to be very in-depth to the customizer. On the surface, his age, preferences, background, professional status, etc., in-depth, to see his aesthetic preferences, his views, his spending habits, etc. Only by doing this, custom jewelry has a foundation, and the work has a soul. So, if the customizer's trust in the designer is not established, how can custom jewelry be done? Usually, at this time, I tend to think that this person needs to find a craftsman to make a mosaic. Why in the Western world Since ancient times, the custom philosophers of senior jewellery, designers, are usually also nobles. Because such trust and communication must be based on the three sides equality of the two parts. Therefore, in fact, jewelry customization is very demanding for designers. It is not you know drawing, understanding of craftsmanship, understanding of gems, then you can become a high-end jewelry designer, which is a very high overall requirement for comprehensive quality. Finally, borrowing a jewel to customize the consumer, "what is real love for what, what memories are precious in life, and what inspiration and humor to smile, these are the luxury of life."
It is very beautiful that the female wearing a silver bracelet, [click here]and also good for health. Now, wearing silver bracelets has become a trend. In ancient times, the role of wearing a silver bracelet was a symbol of identity. Wearing a silver bracelet was a symbol of marriage, and a male wearing a bracelet was a symbol of identity. Sterling silver has been used since ancient times to accelerate wound healing, treat infections, purify water and preserve beverages.