Introduction
Ready to bath your kids? Hmmm… What about wonderfully transforming their bathroom first to add more excitement to their bathing experience?
Decorating the bathroom for your cute little ones can be the most fun and overwhelming feeling. However, aside from the ideas that you want to include, there are still several delightful points you need to consider. You can check them out below.
What Are the Things to Consider When Decorating Your Kids' Bathroom?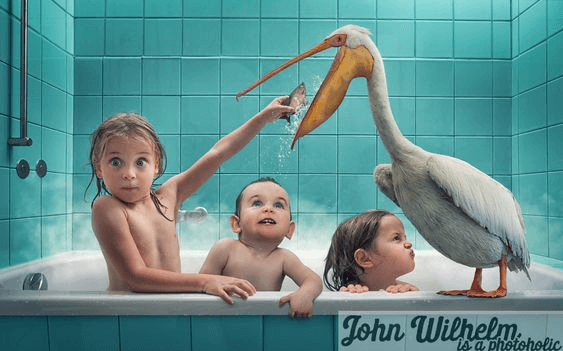 First, you need to remember that in decorating kids' bathroom, every corner must be funfilled with fascinating colors. Why is this so? Colorful things tend to attract young children's eyes because they are easier for them to see.
Second, make sure that the theme you use for your kids' bathroom must concede with their interests as a child. For example, if your little boy is a big fan of a Marvel superhero, you can use that hero as the theme. The same goes for little girls that like princesses and Disney characters.
Third, the gender of your kids must matter with regard to the colors of their bathroom. Usually, the recommended color for little boys is baby blue and pastel or pink for little girls. This way, your kids can identify which one represents their personality as a kid.
Fourth, you have to include personalized things such as towels, accessories, and other toiletries that will fill the bathroom space. This means that their names will be on their towels and their favorite cartoon can be seen around the bathroom.
Lastly, it is important that there are no sharp objects and edges that might be hazardous for the kids. The bathroom must also have the best indoor LED strip lights that will light the whole room, making it safer for your kids to take a bath.
Now that you know the things mentioned above, it is time to choose from a wide range of ideas for your kids' bathroom. Having a hard time choosing which theme is the best? Below is a list of the 5 best kids' bathroom ideas. Enjoy!
1. 
Under the Sea Bathroom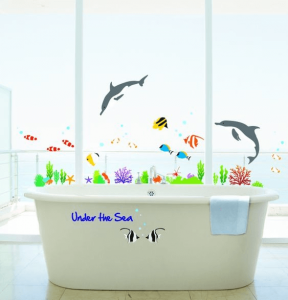 One of the most popular kids' bathroom designs is the under the sea theme. Since the bathroom is where you can see waters streaming down all over the floor, this theme tops our list.
You can turn the kids' bathroom like a sea full of fishes, sea turtles, dolphins, corals, and many more. This will add a whole new excitement to your kids' bathing experience as this will make them feel like they're swimming under the sea.
2. 
In the Jungle Bathroom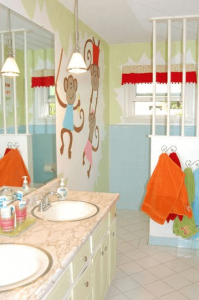 This is a great kids' bathroom idea most especially if your children love the Lion King story. Keep the colors bright like the movie. Match at least four colors as the theme of the bathroom. To complete the look, add jungle animals, like monkeys, lions, zebras, etc.
3. 
Bathroom for All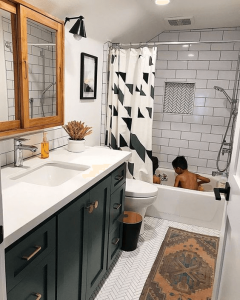 If you have a son and a daughter, but don't have enough resources for two bathrooms, you can build a bathroom for all. This looks like a typical bathroom and doesn't have any specific theme.
You can go with black and white, making the bathroom look more relaxing. However, the walls and flooring could be done in a creative way. You can add different shapes that will captivate your children's creative thinking.
4. 
Painted Bathroom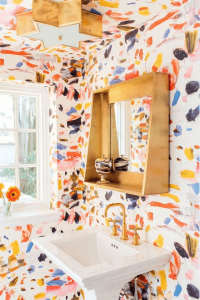 Another great idea is a painted bathroom where your children can see how the colors would look good all together. The picture above shows a bathroom painted with beautiful colors in a messy way.
This idea can work both ways for you and your children. You can let them join you in painting the whole bathroom. However, you need to guide them well to make sure the colors will blend well together.
5. 
Green and Blue Bathroom Shades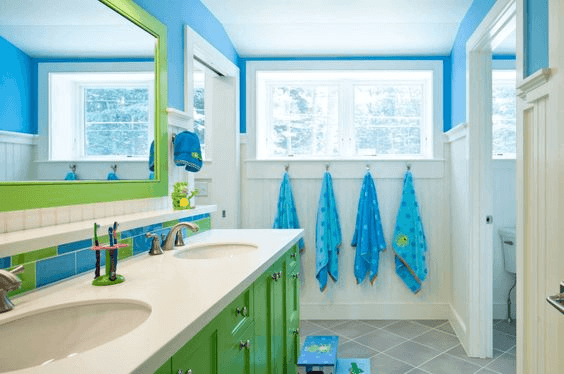 Green and blue, as part of the primary colors, are the most appropriate colors you can use for your kids' bathroom. They have a cooling effect in a bathroom ambiance which your kids would love.
The ADA bathroom sink looks classic as well as it adds a unique texture to your bathroom. While for the other accessories, like towels and other toiletries, you can color them in blue. It will better emphasize the carefree setting.
Conclusion
Now that you have read all the tips and ideas mentioned above, decorating your kids' bathroom is not as difficult as you think it is! From the flooring design up to the bathroom accessories needed, always try to explore the possibilities. This will make you see what works best for you and your kids. In no time, your children will always look forward to bath time!