The type of equipment you purchase can make or break your business. Taking into consideration the fact that business equipment is costly investments, you'll need to do your homework before buying such items. Having an investment plan before heading out will see that you save time and money, and also help you avoid costly repairs.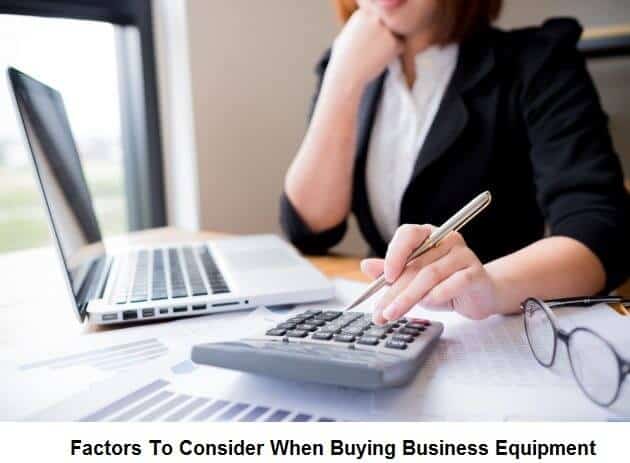 The following tips will help you make an informed decision when purchasing equipment for your business.
Assess Your Business Needs
It is easy for new business owners to get influenced by marketing campaigns used by aggressive equipment manufacturers. Without proper research, you might end up paying more than you should on business equipment or end up purchasing unnecessary equipment.
To avoid this and many more problems, make sure you understand your objectives before heading out to buy any items. Start by figuring out whether you need equipment to increase productivity, help you stay ahead of the competition or help you excel in the marketplace. Getting answers to these questions will help you make the right decision when purchasing equipment for your business.
Focus on Advanced Technologies
The world is rapidly moving from analog to digital and you'd be doing yourself a huge favor by going with the times. Research shows that businesses that invest in new technologies realise improved productivity, better product quality, and lower operation cost.
Compare Products and Services Between different Suppliers
When shopping around for business equipment, it is important that you browse between different companies before making a decision. Consider factors such as company reputation, cost, and post-sale services. To learn more about the services offered by a company, ask for references and read reviews from different sources.
Employee Training
Most equipment being manufactured today are upgrades of previous versions and may require a little training before you can use them. The time, money and resources required to train your employees may vary depending on the nature of the equipment. Before making a purchase, consider what it would cost to train your employees to use a piece of particular equipment and whether there are better alternatives.
Buying Vs Leasing
In some cases, it would be better to lease business equipment than to buy. For instance, if you'll only require a piece of particular equipment for a specific project, then you might consider leasing. You may also lack the space to store the equipment in mind in which case, it might be a better idea to lease or rent. Leasing and renting give you access to equipment at a fraction of its total cost.
New or Used
There's a joy that comes in knowing that you'll be the first person to use a product once you buy it brand new. However, buying a piece of new equipment requires that you pay the full price of the product and this can be expensive compared to buying a used one. If you are out to save money on your next purchase, then consider buying used equipment for your business.
Consider going to auctions, garage sales and liquidation sales where you can save up to 50% on second-hand equipment. You'll be surprised by the number of quality equipment you can find at an attractive price if you just look around.
Quality over Price
If you are set on buying new business equipment, then consider going for quality. A "good deal" on business equipment won't be so good when you have to spend more money on repairs. While we all want to save money on the products we buy, it is important to focus more on quality and value.
Financing Business Equipment
If you are like most business owners, you probably don't have enough money stashed away to pay for all the business equipment you require. In such cases, you need a flexible source of funding to help you make necessary purchases. Business loans and credit cards may serve as a good source of funding but have limitations of their own. For instance, business loans are only offered to businesses with good credit scores and those that have an established track record.
Eco-Friendly
Energy efficient business equipment will both save you money and help protect the environment. Before purchasing a piece of equipment or technology, find out more about energy efficiency and only purchase products that are environmentally friendly.
Get Expert Opinion
Finally, it is advisable that you consult experts in the industry for tips on the best products to buy. You can also look for business mentors if you want a partner who'll help you build your business. There are many websites and forums you can take advantage of and familiarize yourself with the industry before investing money and time on different products.